MARKETSCOPE : The Bear Season : Episode IV
March, 14 2022

A BEAR is Growling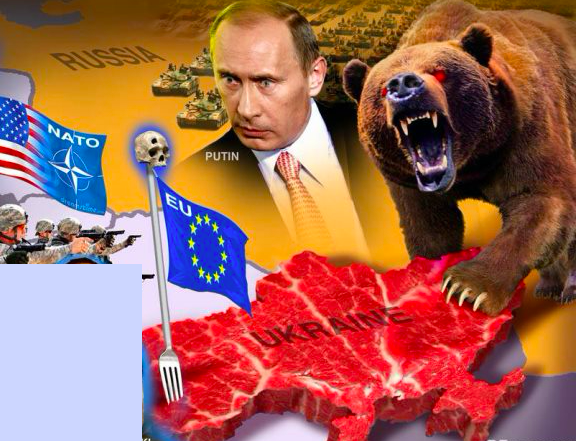 Markets are still hanging on to every news in Ukraine, but they are keeping an eye on monetary policy as well. The Fed is about to begin its rate hike cycle to counteract inflation, which is still unbridled. Volatility remains high, as evidenced by Wednesday's rally. Investors are still struggling to assess the long-term consequences of the ongoing economic and political upheaval.
US stocks moved lower over another week of extreme volatility on the back of the Russian invasion of Ukraine. As has been the case all year, market volatility remained constant this past week. Stocks surged early in the week on hopes of talks between Russia and Ukraine, but hopes faded into Friday.
At its intraday low for the week on Tuesday, the Nasdaq Composite fell to a level that was 22% below its recent peak, i.e in bear market territory.  Meanwhile, commodity prices surged as oil prices reached $139 per barrel —a 14-year high— on Monday.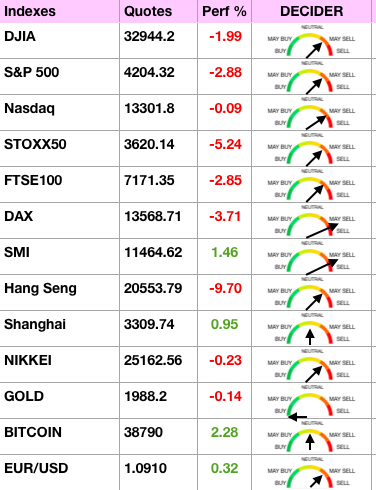 Our market indicators are still negative, with a slight improvement vs. last month. We remain bearish.
Nickel surged more than 80% during a single day before trading was halted on the LME, as the unprecedented rise threatened the ability of the world's largest producer, China's Tsingshan Holding Group, to meet margin calls on its short positions.
On the Macro front, US CPI surged 7.9% y/y, the most since January 1982. The week was marked by the European Central Bank meeting. Alongside a status quo on key rates, the institution showed concern about the acceleration of inflation. It brought forward to June the start of the reduction of its asset purchases, while leaving open the possibility of a rate hike this year, a possibility that was not even considered a few weeks ago. The Bank of England is expected to hike rates again this week, while central banks in Japan, Turkey, and Brazil will also hold policy meetings.
A "Dead-Cat Bounce"
The  Wall Street expression derived from the fact that even a dead cat will bounce if you drop it far enough, an adjustment after an extreme move. As observed by John Authers from Bloomberg  "Winnie the Pooh" character assures us, "Bouncing's what Tiggers do best." Just try substituting the word "markets" for "Tiggers" in his poem:
"The wonderful thing about Tiggers
Is Tiggers are wonderful things
Their tops are made out of rubber
Their bottoms are made out of springs
They're bouncy, trouncy, ouncy, pouncy
Fun, fun, fun, fun, fun"
On Wednesday  the move was a direct reversal of recent trends, with value stocks underperforming while volatile stocks, which have been savagely punished in the last few months, gaining.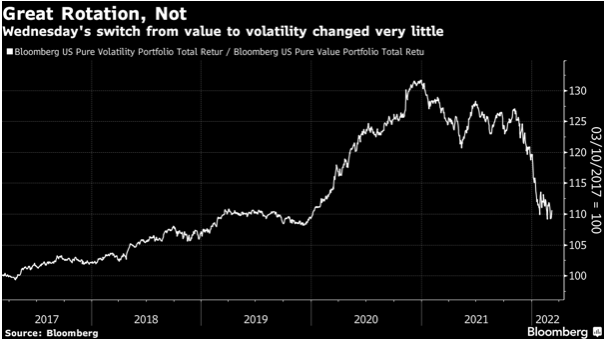 Notably, the S&P 500 index broke the main support level of the January and September lows. At its low point, the S&P 500 Index was roughly 14% off its high, still in correction territory.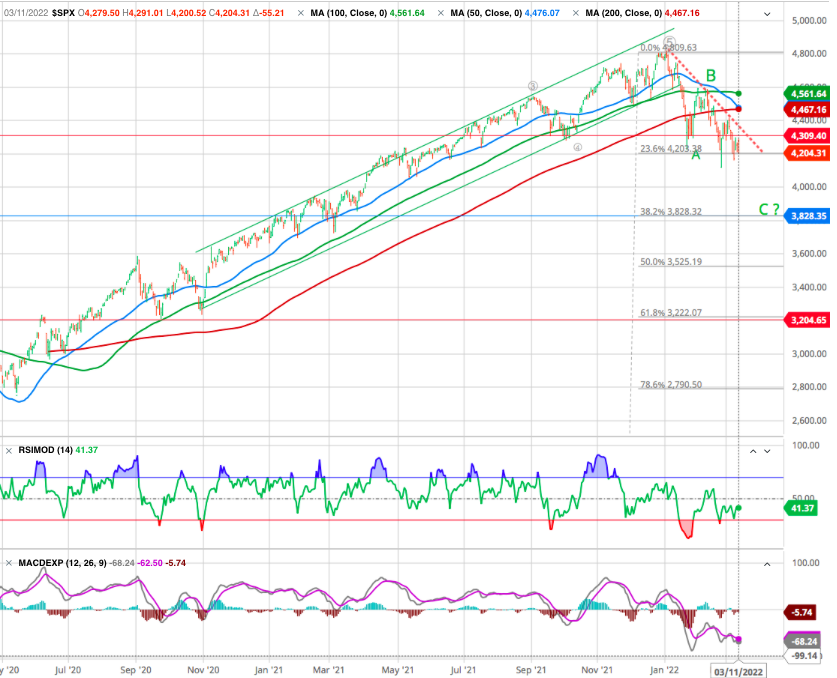 That break sets the market up for a retest of the lows set when Russia initially invaded Ukraine. A failure to hold that low and we are looking at a 38.2% Fibonacci retracement from the March 2020 low to the all-time highs, which would be roughly 3800.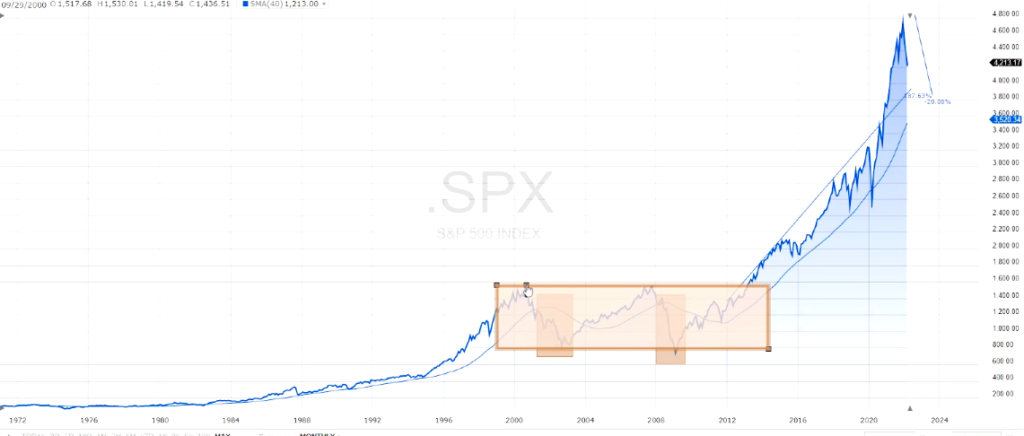 Our market technical indicators provide a mixed picture: sentiment is getting more oversold but still negative and the long-term bull trend is now at risk of being broken.
Let's also note that  for the Swiss Market Index the first target mentioned some weeks ago HERE
"We can also look at the Swiss Market Index where the support seems to hold at the 23.6% correction then moving up to the 200 DMA line (blue and the downtrend line. Ultimately, we still have a l.t. target down to the support at a 50 % correction of the latest uptrend starting April 2020."
has been reached and the market reacted on the support at 38.2%. The next major support remains at 50 %: 10'550.
Nevertheless, as investors turn defensive in Europe, Swiss stocks could outperform relatively.
The past 30 days recorded the best performance for the recommended sectors according to our ABS Matrix  in the "Late Cycle" period. Our ABS and sector basics .

And see our special sector analysis on our site HERE
OIL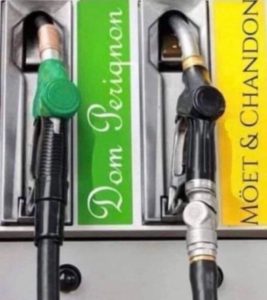 The 'Crazy Commodity' world paused somewhat this week with neither of the two biggest macro assets in the resource universe – oil and gold – going parabolic.
Volatility remains at high levels on oil markets, which remain particularly sensitive to developments related to the war in Ukraine. Crude oil posted its first weekly loss since Russia's invasion, after hitting 14-year highs early in the week.
Multiple analysts have forecasted that, unless the conflict in Europe abates, prices could continue to go up due to supply problems before even higher prices weaken demand and potentially prevent them from rising even further.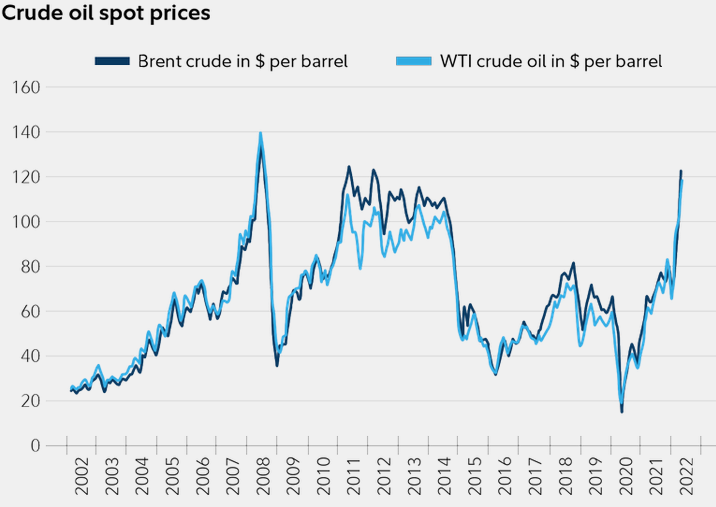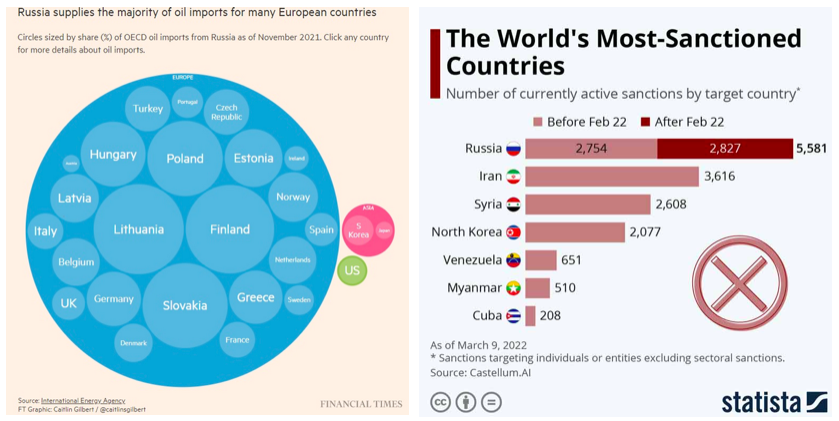 GOLD
In precious metals, gold broke through the USD 2,000 per ounce mark, but failed to hold above that level. The big move in spot gold that attempted to clear above the $2,074 high was deflated at $2,070, pushing gold down all the way to $1,958 on Friday indicates large volatility on the week. Investors did indeed regain their risk appetite at the end of the week, to the detriment of the metal, which is trading, at the time of writing, around USD 1980.
GOLD PRICES COULD CONTINUE TO CLIMB
Gold is seen as an inflation hedge benefitting from a risk off trade
With the potential for supply disruptions from Russia, one of the world's largest producer, prices could climb higher
Given record global debt levels, the real plan for the FED is " fake taper"
The minor range to watch is $1,958 to $2010. Prices need to break and sustain above $2,010 for a retest of the $2,020 and $2,032 levels, which may be targeted by sellers again to hunt for lower levels.
Cryptocurrencies
With the geopolitical environment still very tense, the cryptocurrency market has suffered from significant volatility in recent days. In the space of a week, bitcoin has experienced 10% swings, up and down.
Hard Currencies : EUR/USD
The war in Ukraine weighs on EUR/USD prospects from several angles: macroeconomic growth, interest rate differentials and flows of funds. Nevertheless, the EURO looks like finding some strong support.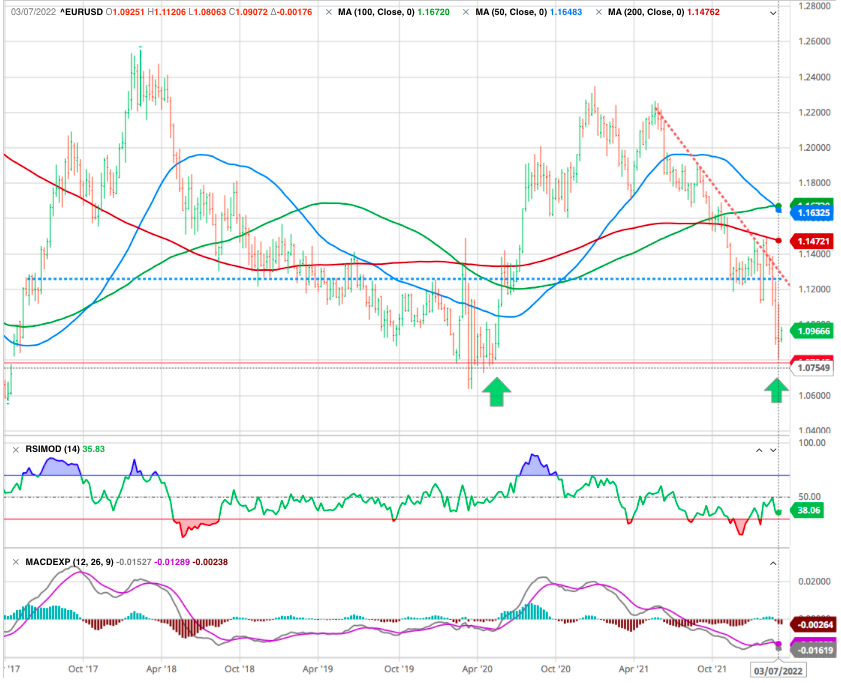 We are also positive on the Swiss franc as fundamental drivers plead for a firm CHF over the medium term. Flight to safety from European assets is a powerful support.
Inflation or Recession ?
Are commodities entering a new secular bull market (by definition, inflation-sensitive assets should do well if we are entering a new inflation regime)?
The challenge with commodities is that they spend most of their time just earning the inflation rate, but with very high volatility.  Let's expect the press to call the next recession "stagflation" at first but the 'flation' part will quickly dissipate as the recession deepens. Our old friend deflation might even make one last guest appearance as commodity price falls take headline inflation rates back below zero for a while.
Why one last appearance? Well, because in the same way that the Covid pandemic triggered a more aggressive fiscal and monetary response with policy makers effectively crossing the Rubicon into monetizing huge fiscal deficits, the war in Ukraine and current cost of living crisis will force western policy makers into an even more aggressive fiscal and monetary response.
First, government spending on defense and energy resilience will rise sharply (especially but not only in Europe). Second, there will be a requirement everywhere to dampen public anger caused by the cost of living crisis that will necessitate fiscal subsidies, either directly to households or to the energy companies. Central Banks will be required to step up to the ever-deepening fiscal plate.
In that sense the FED expected pace and extent of this new cycle of rate increases is unusual by historical standards. In the past, the Fed has raised rates—as high as 20% in the early 1980s—to reduce high inflation. This time, though, even with inflation running higher than it has at any time since then, interest rate policy is unlikely to follow its typical historical pattern.
A recent poll of economists by the Financial Times and the University of Chicago's Booth School of Business suggested that the Fed may need to do more than this to bring inflation under control. Half of those who responded said the Fed won't get inflation under control with only 6 quarter-point rate rises this year. 40% believe the federal funds rate would need to be at or above 2% this year for the Fed to achieve its goal.
A "stagflation" scenario at this stage is totally possible, although temporary, as global GDP could disrupt with long-term uptrend. Equity markets are getting cheaper but earnings forecasts have not been adjusted by consensus yet.
Ultimately, markets have to have another correction as  Market Cap to GDP , a long-term valuation indicator for stocks, needs to fall another 15% just to reach the peak of the Tech Bubble levels.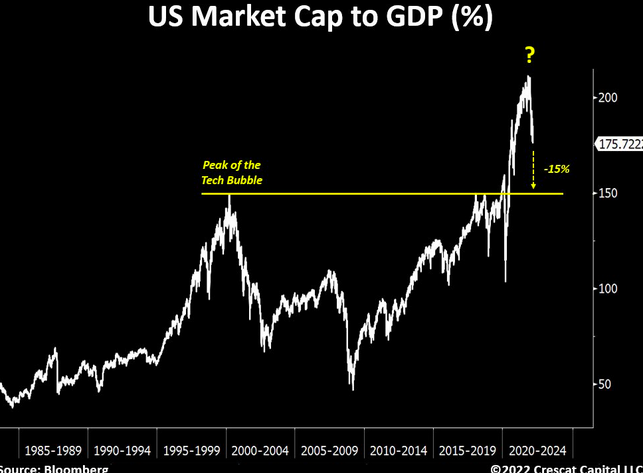 It has become popular in recent years, thanks to Warren Buffett. Back in 2001 he remarked in a Fortune Magazine interview that "it is probably the best single measure of where valuations stand at any given moment."
We are still in this washing machine, and we have been for some time. And we're probably going to be in a washing machine for the rest of our lives, because that's how these algorithmic trading programs work. We just have to get used to this.
As veteran growth investor Louis Navellier observed : 60% of the market's moves last year were after market hours. And so, we can sit here and just watch the market during market hours, but that's a good way to go clinically insane. What we would rather do is step back and look at the big picture, rather than act emotionally and be fooled by the market
Happy Trades