Wealth Management
CUSTOMIZED ASSET MANAGEMENT AND INVESTMENT ADVISORY
We work with the client to develop and efficiently implement a customized investment strategy based on the client's portfolio size, capacity and appetite for risk, as well as investment horizon.
Our number one priority is capital preservation.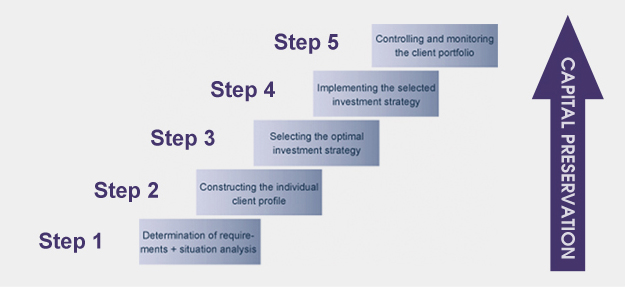 UNIQUE SOLUTIONS FOR PRIVATE CLIENTS
Asset management mandates enable our clients to benefit from the in-depth knowledge and experience of our investment expertise. In today's investment environment, mere access to information is no longer the key to success.
We constantly monitor the market and adapt asset management mandates to political and economic developments as they occur. Astute diversification ensures the implementation of each client's chosen risk/return profile.
Regardless of the investment, for us each client is unique and we are eager to offer a unique solution.
PARTNERS
In order to offer the best services and to have a high degree of credibility and untainted process we closely work with first quality partners, banks and financial institutions where client money is deposited. Among them some prestigious well known Swiss and International private banks in order to offer our clients the choice of the institution they prefer to work with. Investments and cash are held in these banks.