Gold Mines : Muddy Boots
November, 20 2012
Investors can concentrate their gathering of information on developing trends in the resource industries by attending conferences and events that provide exposure to the major companies in the industry, their executives and the analysts that follow those companies and industries as well as networking opportunities with other investors. With the rapidly changing investment scene requiring increasing amounts of background information, these opportunities are becoming a mandatory part of any investment strategy. That is exactly what we aim to offer at Investlogic to support our clients and partners in these efforts.
Don't Fear a Normal Gold Correction
I am still positive about the gold price as I think it will develop over the next few years. But as I often mention, I am not advocating that investors should invest in the metals and even better, in mining and exploration shares, just because the metal prices will go higher. The current prices are good enough where they currently are, to justify applying a solid part of almost every investor's portfolio in resource stocks.
Our reports :

Don't Fear a Normal Gold Correction
What Will the Price of Gold Be in January 2014
Selecting Successful Junior Mining Stocks
To buy mining stocks means to buy a share of a product, or in this case in one or various mines; before the raw material is exploited in the case of 'explorers' companies, or a share of the production in the case of those mines already producing, either with 'intermediate level producers' or large producers, known as "majors."
They can be divided into three categories: exploratory, medium producers and majors producers. What gives the explorer companies the potential to be extremely profitable is that one can generally purchase a percentage of the anticipated production, because it is gambling on a major discovery of the raw material in the future.
As such, to invest in this kind of companies is more risky than its counterparts, medium and majors producers. Investing in explorer companies can be extremely profitable, but we only invest a small portion of the portfolio
In the following presentations you will review the key parameters to select a mining stock and what is the potential of the current cycle even though you are not bullish on gold price. As highlighted in "Exploration Insights" the gold mining cycle is a bit contrary to the bullion, when the risk aversion is at its peak the best returns can be expected for the future as the main discoveries appears post gold price peaks.
 Selecting Successful Mining Stocks 
HUI Gold Miners Index Analysis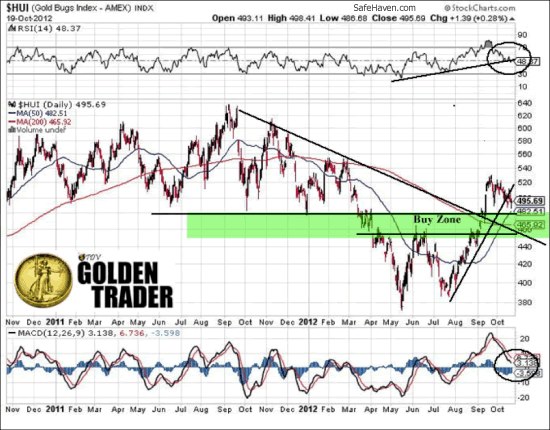 Currently the HUI is at 450 which is still above the 50 dma at 482 and the 200 dma at 465, which is a positive alignment if the index can hold these gains. One thing to pay attention to from the chart below is the price action on the HUI from April this past year to the end of August, a period called the summer doldrums. During this period support came around 385 and was tested 2 different times, while overhead resistance was at 450 which also was tested a couple of times. Back then 450 was overhead resistance which was finally broken with a strong move higher during September; we suspect this will now become the new support level while 520 will act as resistance.
While we still remain cautiously optimistic that a new uptrend has started longer term, the HUI to the 450 range ( + or – 10 points) over the coming months and 520 will now act as overhead resistance as a new trading range will be set. In general, along the support is where we would look to initiate new positions in some of the senior producers and hold them going into the New Year. At some point, I do expect overhead resistance at 520 will be breached to the upside at which point the HUI index could run to 580 and higher, but that would mean gold would have to be on fire and trading above its overhead resistance at $1800 on a holding basis. Until then, the miners will probably trade in a range where the HUI fluctuates between 460 and 520 as long as gold stays above $1650.
PREMIUM RECO
Pan American Silver (PAAS)
Timmins Gold Corp. (TMM)
Geologix Explorations Inc. (GIX)
Nevada Exploration Inc. (NGE)
Triple-digit potential
"We expect the gold-to-silver ratio to eventually reach the mid-teens again," Porter Stansberry writes in a recent issue of his Investment Advisory newsletter.
As a whole, silver stocks are trading at depressed levels. Today, we have the opportunity to buy the highest-quality silver miner – Pan American Silver (PAAS) – at almost the smallest premium to its annual production we've ever seen. Pan American's stock price ought to be related to the value of its annual silver production. Five years ago, the shares were worth 11.5 years of production. Today, they're barely worth four years of production. Even during the crisis of 2008, the stock traded at a higher production multiple.
Porter believes silver will reach new highs (over $50 an ounce) as the world continues to print money. And that means huge potential gains for PAAS. He likes the company below $25 a share… We believe Pan American Silver is trading at what will become the all-time cycle low in terms of its production multiple. Given this huge historic discount, investors will make more money over the next year owning the stock of Pan American Silver than they will holding silver bullion. We expect Pan American to increase production, and we expect the shares to trade at a much higher multiple to the value of the current production. These factors should take the share price to a new high, possibly more than $50 per share over the next 12-18 months. 
High Risk & Reward in Nevada
One of the new developments that just emerged is Nevada Exploration Inc.'s Grass Valley, Nevada, project, which was generated by an innovative technique called hydrogeochemistry that focuses on the gravel covered basins of Nevada. Groundwater is collected and tested for gold and all the various poisons, such as arsenic, antimony, thallium and mercury, which are normally associated with Carlin-style deposits. Where tests show a gold-in-groundwater anomaly, geologists can take a closer look at the bedrock underneath.
The easy gold has already been found in Nevada. Now we have had a decade or so of fairly sophisticated exploration looking for lower-plate windows. The next wave will require a very, sophisticated search similar to what is happening at Rye Patch and NuLegacy, or a very innovative exploration strategy like hydrogeochemical sampling. The beauty of the latter is that it results in new discoveries such as Grass Valley where no one would have a prior geological reason to explore in the first place.