MARKETSCOPE : Bear Bank Run
March, 13 2023

 Markets Ride a Slope of Doubts
Be prepared for the unexpected, including sudden, sharp downward swings in markets and the economy. Whatever adverse scenario you can contemplate, reality can be far worse.

Seth Klarman
What a week.
The Fear Index (VIX) was up more than 30% on the week.
The S&P 500, Nasdaq and Russell were down between -4% and -8%.
Stocks ended their worst week so far this year with a fourth straight day of losses due to the Federal Reserve's decision to keep rates high for longer than expected. This decision was based on persistent inflationary pressures. The Fed Chair Jerome Powell's speech showed just how dependent the Fed will be on incoming data ahead of its upcoming policy meeting scheduled for March 21-22.
For some times the best indicator of what broader financial markets would do and in anticipating recession is the Yield inversion which is now hit 100 basis points !
Later  the fall in bank stocks at the end of the week exacerbated the situation and reinforced risk aversion, despite mixed employment data. U.S. Treasuries and gold soared in a flight to quality, after federal regulators closed tech-focused lender Silicon Valley Bank on Friday in the biggest U.S. bank failure since 2008.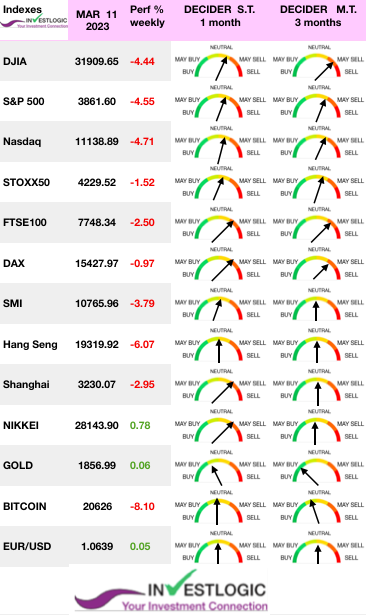 The S&P 500 Index fell on Friday to its lowest intraday level since January 5 as the selling accelerated after the index broke both its 100-day and 200-day moving averages. Financials led the declines and contributed to the pronounced weakness in value stocks. Concerns grew throughout the week about the health of Silicon Valley Bank (SVB) as customers pulled deposits after the tech-oriented regional bank was forced to sell and realize losses in securities held on its balance sheet in order to meet capital requirements—marking the 2nd biggest bank failure in US history.
Regional bank stocks plunged, with the top S&P regional banking ETF sinking 16% on the week, its worst showing since March 2020 at the start of the pandemic. Large US banks held up better, in part because stricter banking regulations required them to previously mark down the value of some securities. -See below-
Shares in Europe fell amid worries about stress in the banking system. The European Central Bank is expected to deliver another big rate hike, the U.K. is to announce its latest budget. Chinese equities retreated as signs of weakening demand and a lower-than-expected 2023 growth target tempered concerns about the country's outlook. China is to release a flurry of economic data.
The week is expected to see more drama over the collapse of SVB Financial Group and the implications for the banking sector and venture capital ecosystem. Economic releases will also dominate the conversation about stocks this week with the next Federal Reserve meeting rapidly approaching.
MARKETS : Smells like 2008.
The S&P 500 tanked close to two percent on Friday and here's the index's heat map: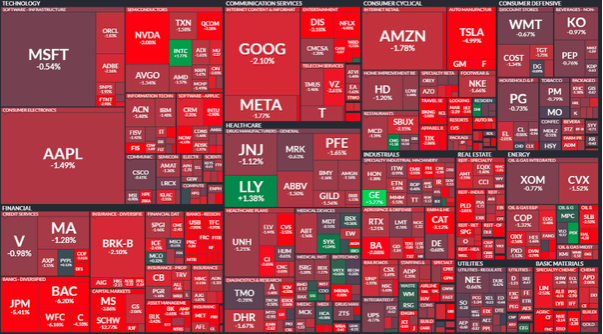 This past week, the market took a double whammy from Jerome Powell's testimony and concerns about a crack in the regional bank sector.
By Thursday the 200-day moving average on the S&P 500 got taken out and after a short kiss goodbye on Friday never looked back. The complacency of equity investors quickly vanished and the VIX actually saw a panic-spike moment on Friday before calming down again towards the end of the session.
With that, the S&P 500 is now below both the 50 and the 200 day moving average, as well as trading below the short term trend line that has been in place since October lows and challenging the primary downtrend line (dotted red line).
This could get much more dynamic to the downside. With all of the previous bullish support levels broken, the next logical level of support is the December lows. A failure there will then set supports at the June and October lows.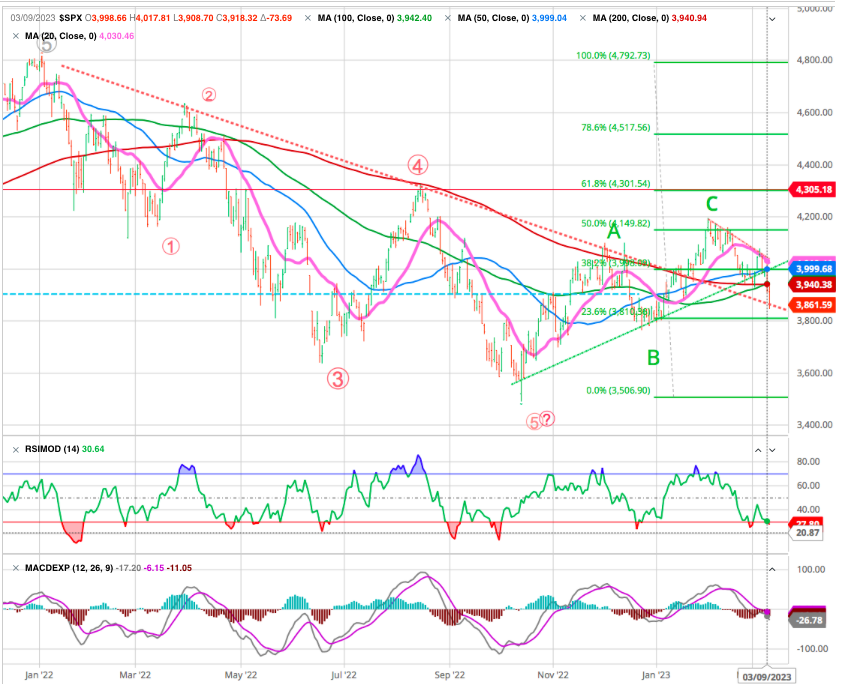 You have to think with a FED meeting on the 22nd, SVB collapse and CPI next Tuesday, we're likely to test past lows, if 3900 doesn't hold, there is not alot of support until you retrace 3650-3700. Despite the questionable U.S. regulators' swift weekend action to limit fallout from the failure of Silicon Valley Bank which has prompted one of the most extraordinary recoils in borrowing costs in decades as investors re-assess the implications of the sudden banking system stress, we can assess that unfortunately it just a respite.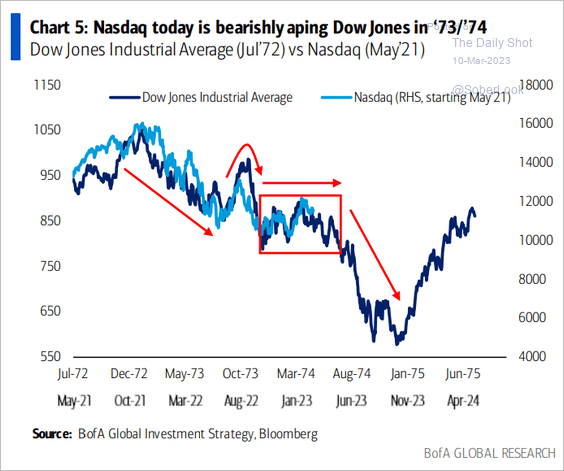 Actually we have been looking for such an surprising negative event to comfort us that we are closer to a capitulation process. It might develop in the coming weeks despite the official interventionism.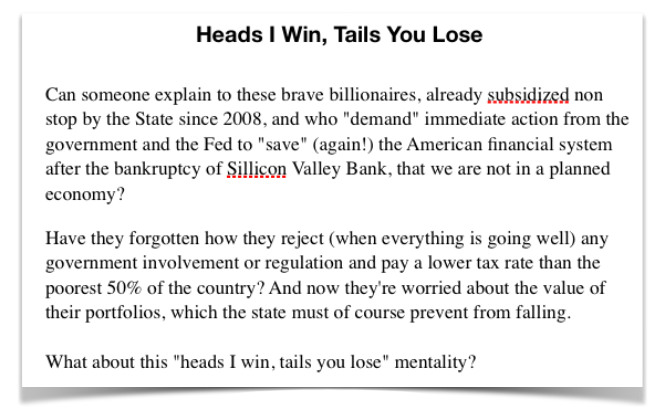 The failure of SVB and the Federal Reserve introducing a new type of quantitative easing to backstop the banking sector has traders increasingly betting on a forced FED pause.
The bottom line is that the situation is risky, but the Fed can take a bank failure as a sign that its monetary policy is having an effect, so less tightening will be necessary in future.
We have expecting such an event it for a long time !!!  Now things will decant.
We have been thinking since last sumer that before asset markets bottom out, we will see somebody or something "BIG" go out of business -See FTX,  Credit Suisse turmoil- AND the revelation somewhere of a massive fraud, which would badly shake confidence in our Marketscope  10/03/22
And Also check ANATOMY OF A BEAR MARKET and HERE
But now, let's also have a look at the tormented financial sector. To start, here for example the XLF – the SPDR Financial sector ETF – covering US finance companies: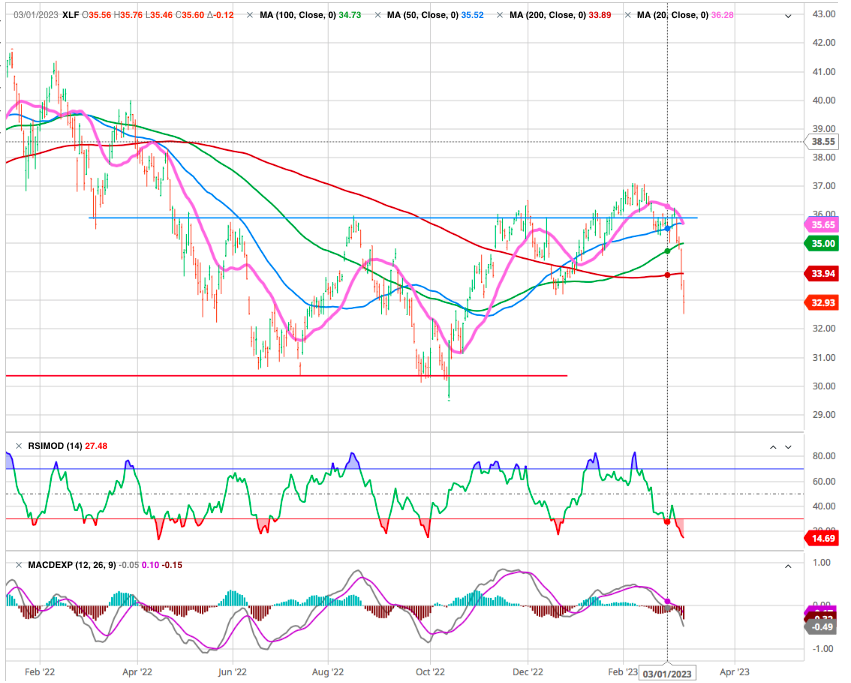 That blue line in the chart above, that line of support and resistance worked well. Now, it looks ugly, to say the least…
European equity indices (below the SXXP) continue to look more constructive, but should the US market continue to accelerate on the downside, there is no doubt that Europe will follow.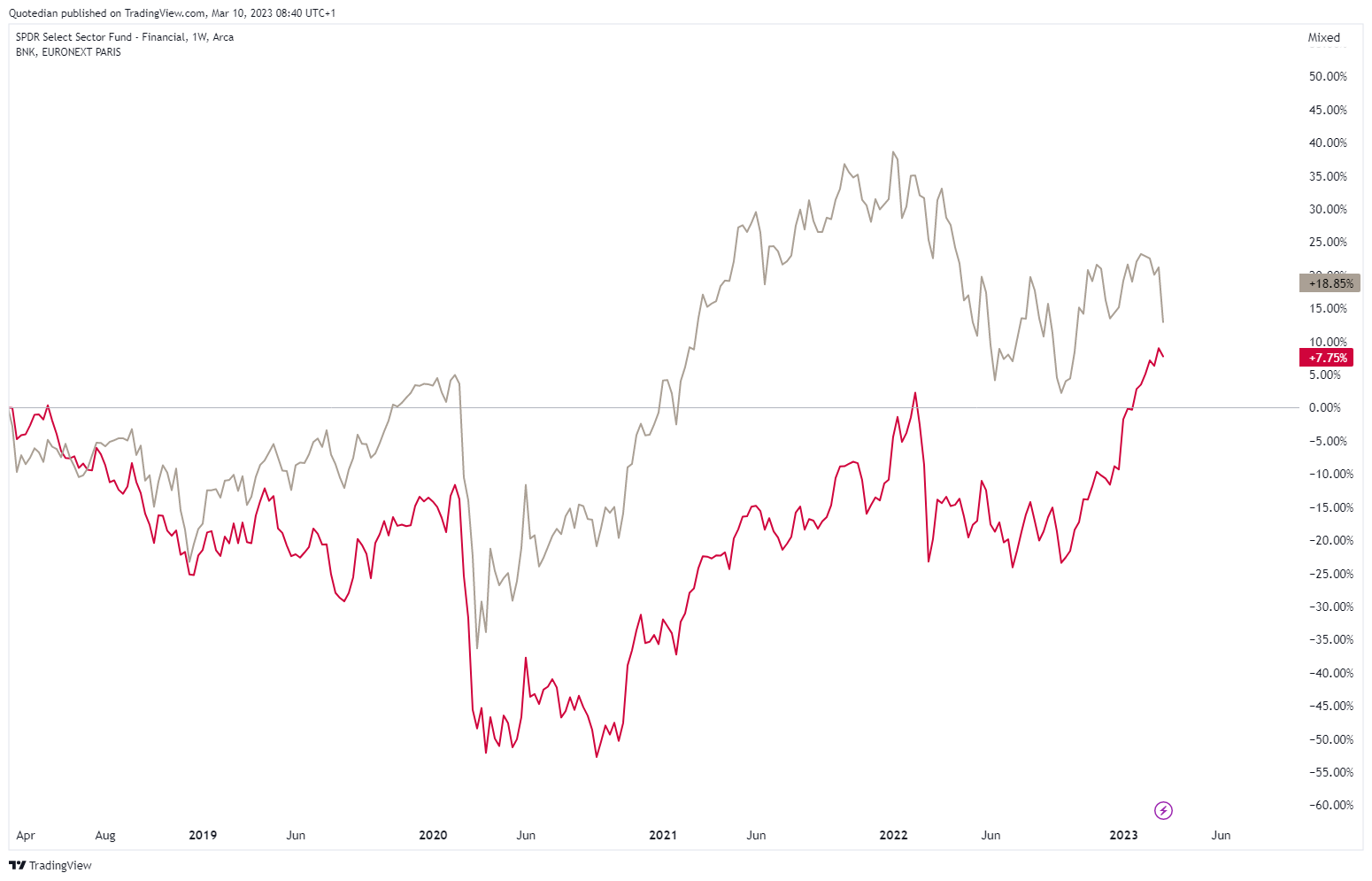 GOLD : Strategic Buyers are Lurking
Gold, for its part, is stabilizing at USD 1835. China (again), has increased its gold holdings with a purchase of 25 tons last month. The Precious metal is in a constuctive phase.
Over the past decade, central bank interest in gold as a reserve asset has resumed. Emerging countries have been the main players. With 1,135 tons, 2022 was the second highest year in terms of net central bank purchases, the fastest pace in 55 years.
Central Banks continue to accumulate gold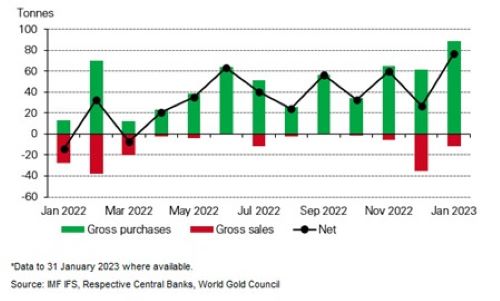 Of these, China and Russia have stockpiled the most. This is not surprising given that the Shanghai Cooperation Organization (SCO) is studying a return to a new form of gold standard.
If China were to go down this path, which is not unlikely in the medium term, it could be a game changer, i.e. a serious challenge for the USD and EUR. The use of gold could convince Asian/regional countries that want to avoid dependence on the ruble or the yuan for good political reasons. Among the big players, India comes to mind.
To be continued!
CHINA : New budget, new priorities
China's National People's Congress convened its annual parliamentary gathering this week, setting a GDP growth goal of "around 5%" for 2023 to mark its lowest target in over three decades. Perhaps unsurprisingly, China's defense spending will rise by 7.2% – or by nearly $230B – which is greater than its economic growth objective, and ahead of its 5.7% increase in general public expenditure.
The figures will be on the radar of lawmakers on Capitol Hill, with U.S. defense spending in focus amid budget cut talks on the debt ceiling. Tensions also continued to escalate between the world's largest economies over silicon and technologies of the future as a war of words ratcheted up on both sides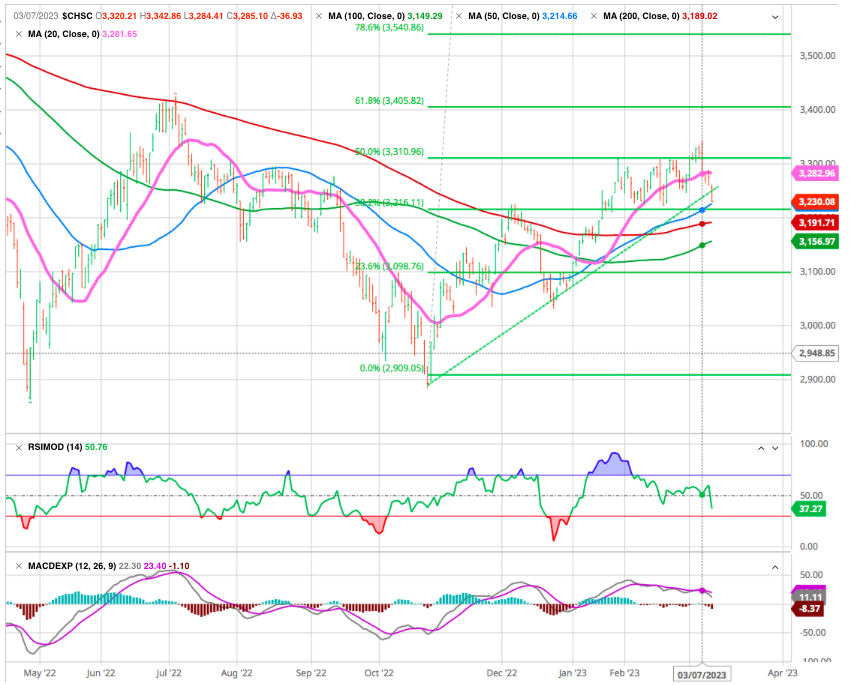 China's progress on technology investment is astounding. Last week, the Australian Strategic Policy Institute (ASPI), put out a report that rated Chinese researchers ahead of Americans in 37 of 44 technologies examined, across the sectors of defense, space, robotics, energy, environment, biotechnology, artificial intelligence, advanced materials and quantum technology.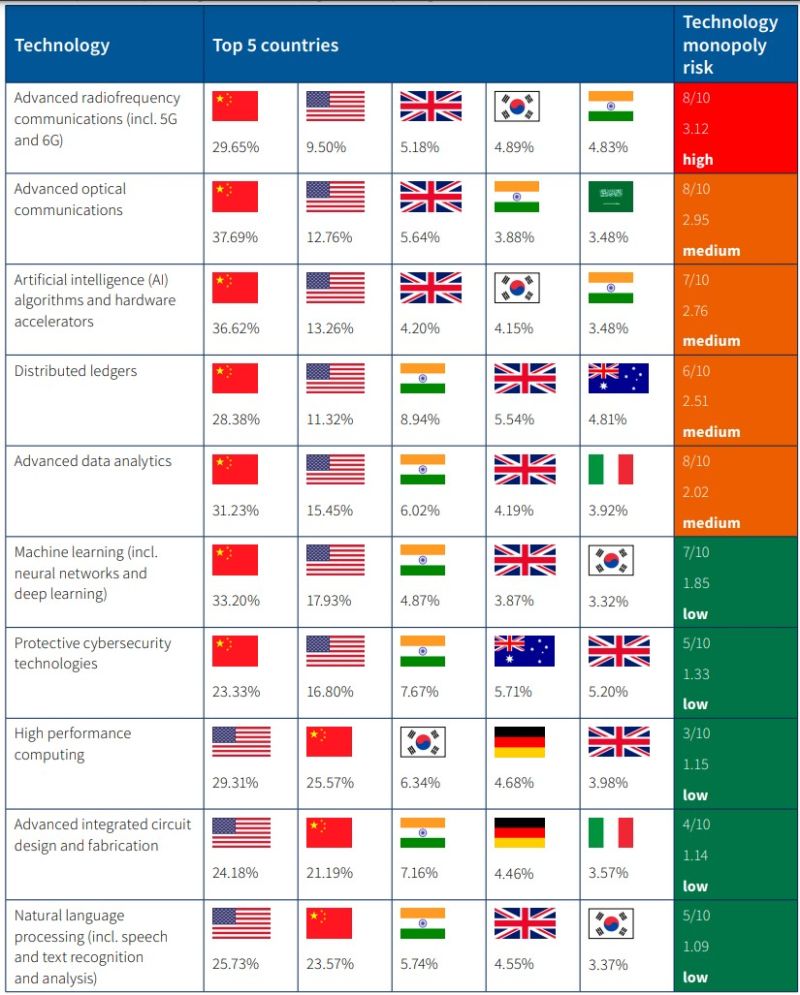 "In the long term, China's leading research position means that it has set itself up to excel not just in current technological development in almost all sectors, but in future technologies that don't yet exist," ASPI concluded.
Cryptos
Bitcoin is falling heavily by 11% this week and is once again flirting with the $20,000 mark. With the collapse of the crypto-friendly Silvergate bank, the increasing regulatory crackdown on ecosystem players in the United States, and the backdrop of a macroeconomic environment that is struggling to provide positive catalysts to sustainably revive risky assets, the crypto-currency market is looking pale. Bitcoin aficionados will have to remain patient, once again, before seeing blue skies in the cryptosphere again.
Happy trades
BONUS :
Cathie Wood's Ark Investment Management has earned more than $300mn in fees on its flagship exchange traded fund since its inception nine years ago, while wiping out almost $10bn of investors' cash in the same period.
via Felder Report    Source FT