Some Fresh Air for the Miners
August, 16 2013
It's been a busy few days for the precious metals… it seems the physical demand is creeping back into paper prices…
Marginal gold miners went bust when the price dips below $1,300. Beaten down mining stocks have actually outperformed gold over the past six weeks. The widely followed Market Vectors Gold Miners ETF has jumped more than 8% since the end of June.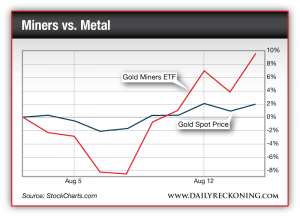 See also the Gold Update Report
But there is potentially another 'trade'…
See 5 More Gold Miners Yielding More Than The 10-Year U. S. Treasury Bond
Yet we are at a moment in time where we might invest in gold and let human nature run her course. I speak here of the bonds of the gold mining companies. Homework must be done, preparation and running the numbers accurately must be performed, but with yields where they are now; it may be a golden opportunity. More inflation; you win. The return of Fear; you win. The loss of faith in some currency; you win. In the meantime you can ferret out some nice coupons and yields and invest in gold and not speculate on appreciation.
JPMorgan's favorite gold stocks
Goldcorp (GG), Eldorado (EGO), Newgold (NGD) and Newmont (NEM).
Silver often offers higher beta precious metals exposure. Our favorite silver stock is Silver Wheaton (SLW), and Coeur (CDE) and Hecla (HL) offer leverage.
Gold Stocks : Some Fresh Air for the Gold Diggers :
Over the past few months, the decline in GDX could have formed a bullish inverse head & shoulders pattern. The right shoulder might be in place. If this read is correct, a strong rally could be imminent.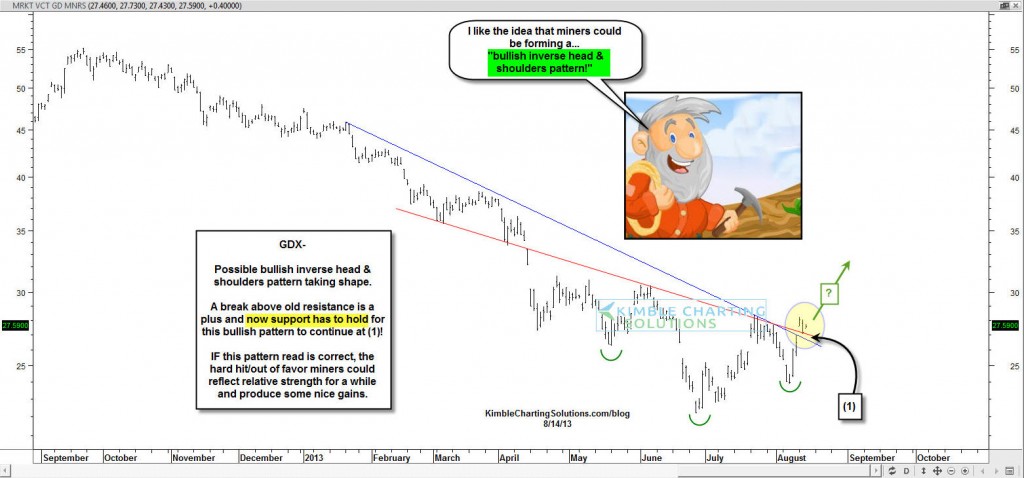 For this pattern to work, GDX CAN NOT break below the right shoulder. If it does the pattern is a bust.
Obviously, the ideal time for that would have been at the exact bottom. A number of factors came together making a near bulletproof case for a major bottom. Bulletproof is a dangerous word to use and especially for someone (cough, me!) who had anticipated a huge rebound as early as the spring. Last week we used that term again because the gold stocks were only correcting and consolidating which is a typical of a post-bottom rebound. The precious metals complex looked weak to start last week but reversed course to form not only a bullish weekly reversal but the first higher low since the major bottom. Our technical work and historical analysis strongly argue that it's only a matter of time before this sector begins the next move higher.
The daily chart below shows GDX (large miners), ZJG.to (mid-tiers and juniors) and SIL (silver stocks). All markets have not only put in a higher low but are now trading above their now upward sloping 50-day moving averages. In studying the 1970, 1976, 2000 and 2008 bottoms in gold stocks I found that the recoveries accelerated after the market moved above a flat or upward sloping 50-day moving average. That is currently quite visible in ZJG and SIL. GDX contains the large and most depressed companies so its not a surprise that its lagging. These markets should soon break out from their multi-month bottoming patterns.
The weekly chart below shows the next major resistance for the HUI, Gold and Silver. The HUI won't face major resistance until 365 to 375. Thus, there is ample room for the market to recover as shown in the above projection. The same can be said of Gold and Silver. If and when Gold breaks $1350 it should have little in its way until $1525. Meanwhile, Silver should be able to rally back to $26.
It's true of any market but even more so for the precious metals complex. The biggest gains come immediately following major bottoms. The recovery template shows that the recovery and gains really accelerate after the first correction or consolidation. Last week this sector put in a higher low on the weekly chart. That is significant. Look for this sector to gain momentum in the coming days and weeks. More instructive is the fact that many quality and leading companies are already trading at three or four month highs. Most traders will go with GDX and GDXJ, thereby neglecting the fact that there are huge gains to be had in this sector if you can identify the leading companies. For those who missed the initial rebound, now could be your final chance to initiate or add to positions before the acceleration begins.