MARKETSCOPE : No Wedding, Three Funerals and One Burial.
March, 20 2023

"Everything Everywhere All at Once"
The Oscar movie's title is the alternate choice for today's Marketscope, as it seems to describe very well what is currently going on in markets.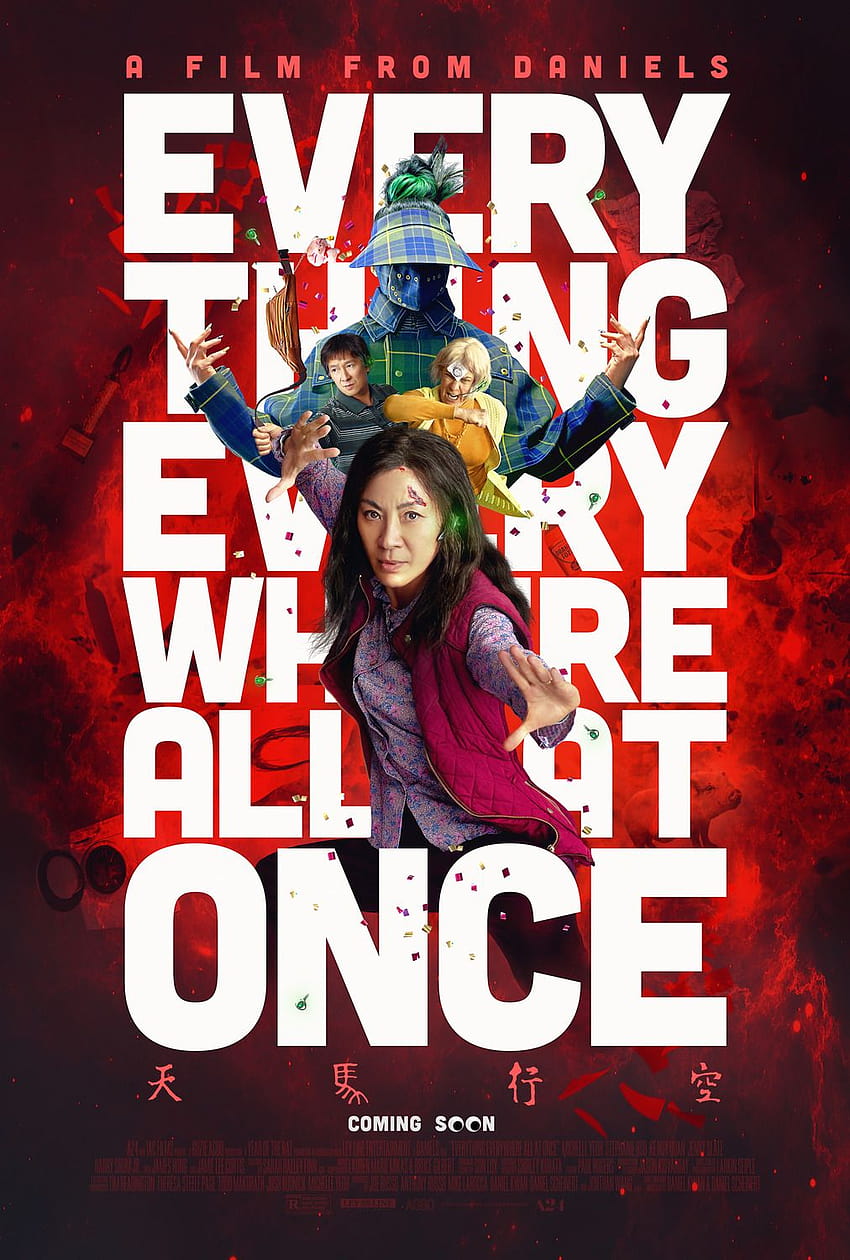 Another wild weekend has seen regulators attempt to stave off a banking crisis that's quickly spreading across global markets. Authorities are working to contain a major banking crisis, after a run on deposits that shut down two U.S. banks and sent a third reeling. Meanwhile, Credit Suisse  has been buried (RIP).
In an emergency deal brokered by Swiss authorities, UBS agreed to scoop up longtime rival Credit Suisse for $3.25B, which was less than half of the latter's market valuation at the close of trading on Friday. Without a deal, Credit Suisse would've likely collapsed this week, spreading further financial contagion that began in the U.S. with the implosion of Silvergate Capital, Silicon Valley Bank and Signature Bank (First Republic is also facing trouble with additional cuts to its ratings).
With big losses on tap for shareholders and bondholders, the Fed, ECB and other major central banks took "coordinated action" to ensure dollar liquidity, while the Swiss National Bank promised access to liquidity facilities for both banks involved in the transaction.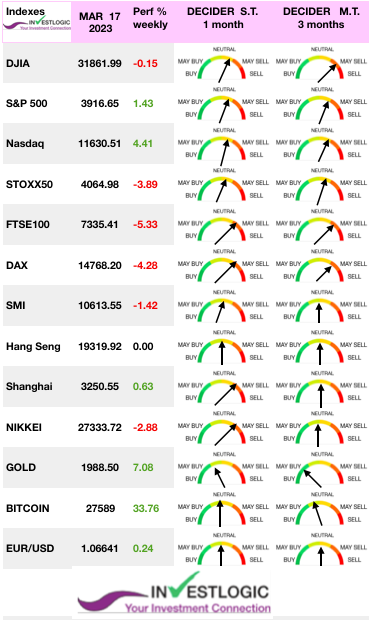 Equity markets are showing some resilience, betting that central banks will be forced to reverse their austere monetary policies to give the financial sector some breathing space.
US stocks closed mixed for the week, reflecting the crosscurrents of stresses in the banking sector, worries that a steeper slowdown in the economy would follow, and hopes that the Fed would now be forced to pause its rate-hiking cycle. Sector returns within the S&P 500 Index varied widely: mega-cap tech stocks recorded strong gains while financials and energy shares suffered significant losses.
Shares in Europe tumbled  as the pan-European STOXX Europe 600 Index ended the week 3.8% lower. ECB sticks to half-point rate hike despite stress on European banks as they said that inflation is expected to stay above target.
Investors seem to think that the monetary tightening policy is history because they put the risk of weakening the financial sector above the inflationary risk. In the end, stocks did not fall as much as might have been feared, although there was a big swell during the week.
While moves by the government may limit wider contagion among financial institutions, tightening standards among lenders, greater scrutiny and raising capital ratios all have the potential to slow economic activity. Combined with higher interest rates from the Federal Reserve, it can all but guarantee a coming recession.
The headliner event of the week will be a crucial two-day meeting of the Federal Reserve's policy-making committee with some investors on a razor's edge over the potential for an unexpectedly hawkish tilt. At the time of publication, futures trading implies a 74.5% probability of a 25 basis point rate hike by the Fed and a 25.5% chance of no hike at all.
The corporate calendar features one of the biggest events of the year for Nvidia. The chipmaker's GTC Conference will be closely watched across the tech sector, with some discussion on AI chips anticipated. Nike will also report earnings next week with investors looking to get a beat on how demand and inventory trends are holding up for the Dow 30 stock.
CS : Pack the Sails
Check our Newsletter to our subscribers
With  the Swiss National Bank offer the combined bank an emergency liquidity loan of up to 100 billion Swiss francs. That loan is protected in the event of a default.
All in all, the new Credit Suisse / UBS could benefit from more than 260 billion Swiss francs ($280 billion) in state and central bank support, a third of the country's gross domestic product, as part of their merger to buffer Switzerland against global financial turmoil, documents outlining the deal show.
MARKETS : Bear Bank Run (to be continued)
This week financial stability was rocked by bank solvency issues starting with Silicon Valley Bank and spreading through Credit Suisse.
With that, the market took out the 200-DMA and up again challenging these levels. The markets may be for a sideways pattern in the coming days before the Fed announcement stucked  between the two Fibo level (61.8%  and 50 % ), the next logical level of support would be the December lows. However hopes of a "pivot" due to financial stress could contribute to some buying pressure.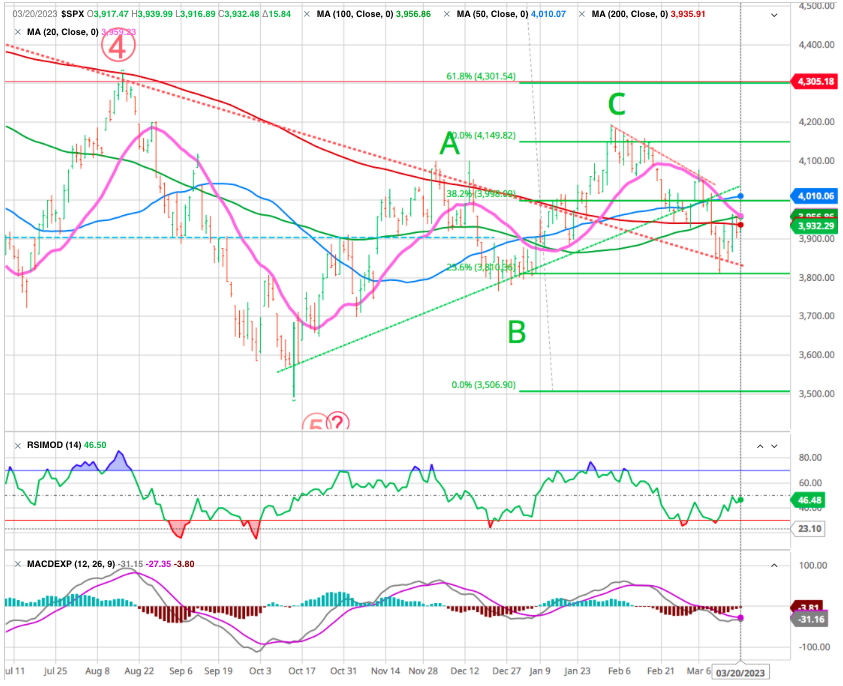 Looking at our favorite long terms charts (5 years business cycle)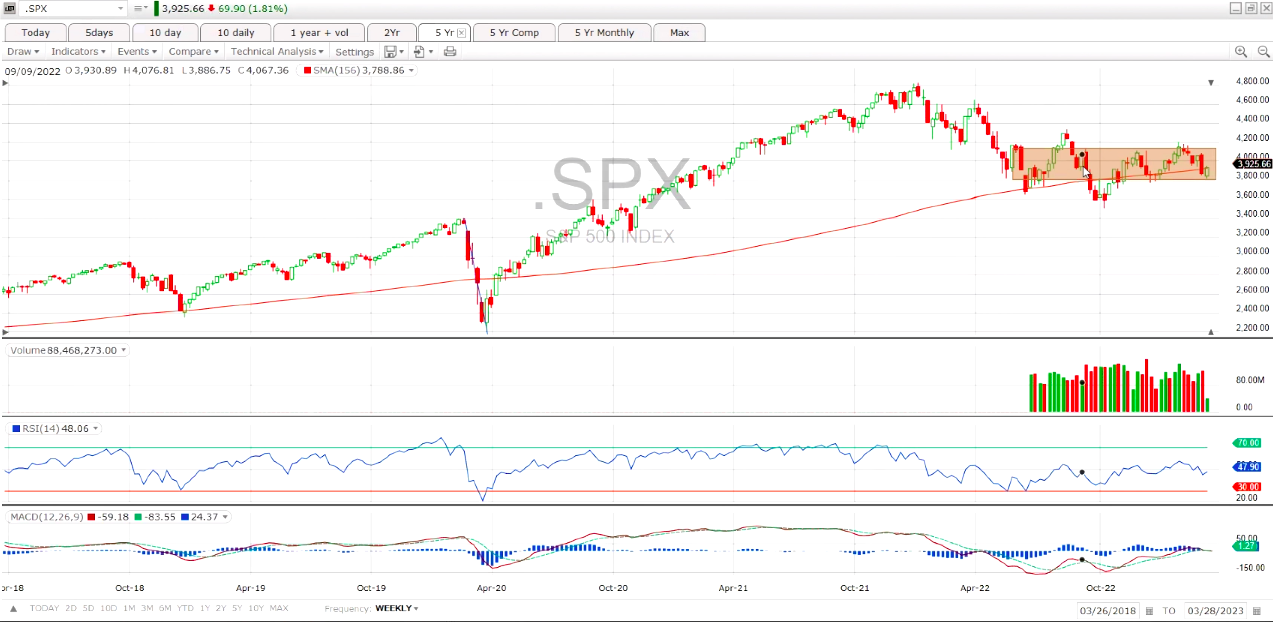 We can see that the S&P is still holding its l.t. support which is not the case for the QQQ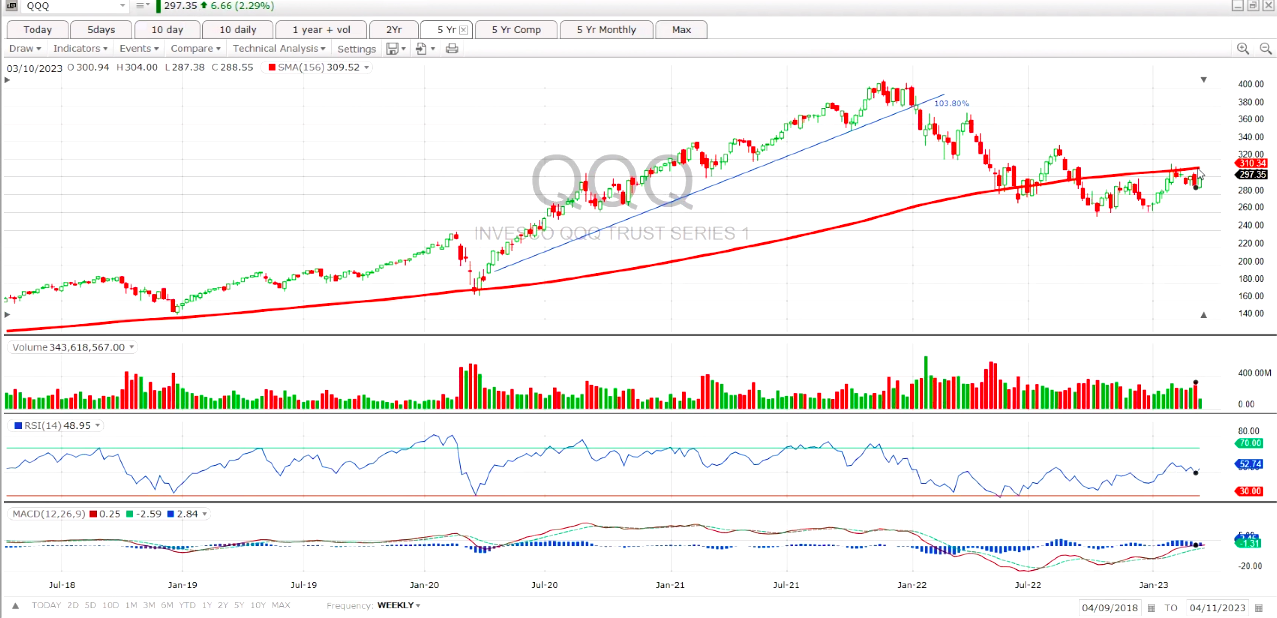 As well as for the Financials even though it is deteriorating on the l.t. chart it remains OK with a support at 30.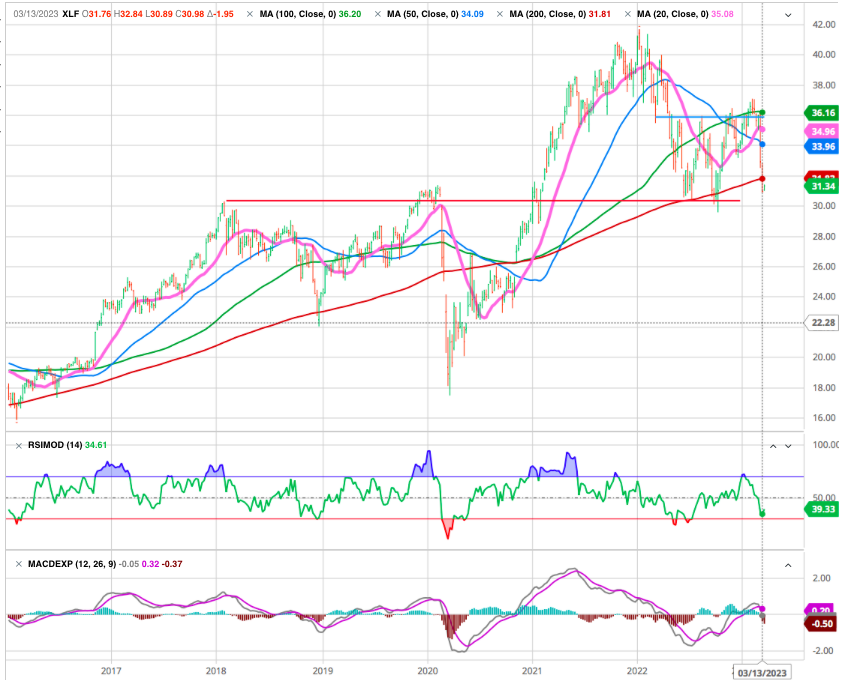 Consumer Staples : Attractive
These steady performers were hot last year and cold in 2023. But now rapidly warming as bank fears hit the market. It helps that they have pricing power and their multiples have been trimmed.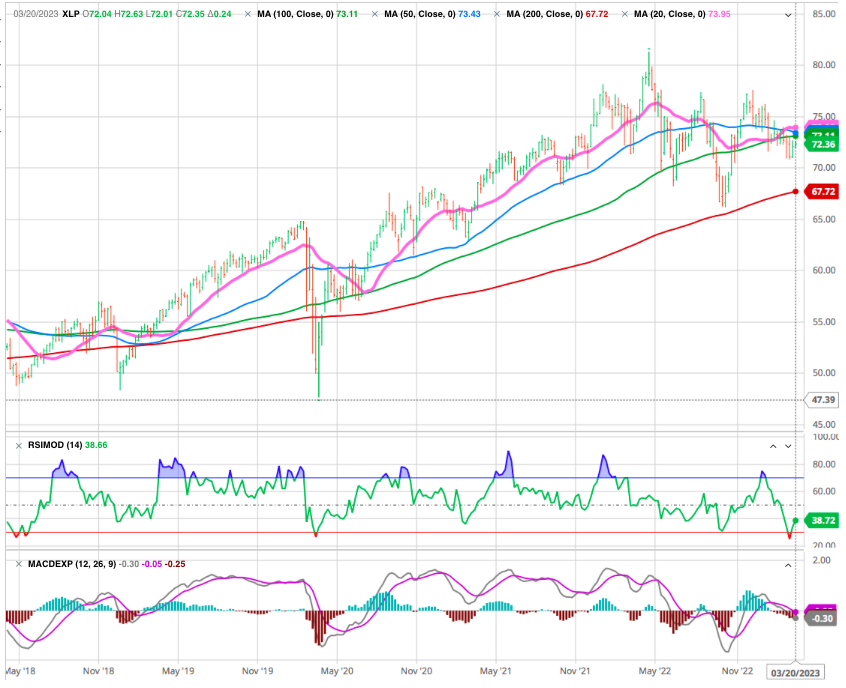 Some of the best in class operators that have robust trends and growing sales in the face of inflation are: Procter & Gamble, Colgate Palmolive, Mondelez and PepsiCo
GOLD
The precious metal recorded its third consecutive week of increase and in a very nice way since its price went from 1815 to 1980 USD during this period.
EUR / USD
The European Central Bank has, as previously communicated, effectively raised its key rates by 50 basis points to 3.50%. The next step seems to be less clear as Christine Lagarde did not want to give a precise framework for a possible continuation – or not – of the interest rate hike cycle. The members of the committee are hiding behind the next publications of economic indicators. Admittedly, in a context where bank failures are once again making headlines, it is hardly surprising that the ECB prefers to leave itself some room for maneuver.  There is also some wait-and-see attitude with the Swiss franc and British pound… because the SNB and BoE are also on deck this week.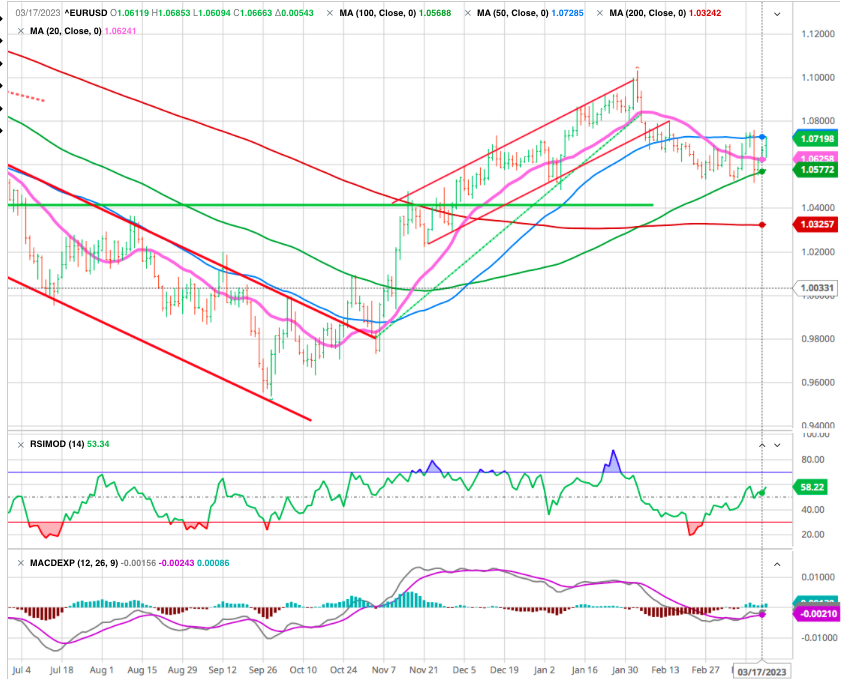 CRYPTOS
Against the tide of banking chaos, bitcoin is up 18% this week and is exploring new highs over the year 2023, hovering around $27'000. For the most ardent supporters of Satoshi Nakamoto's creation, the rise of bitcoin amidst banking tensions proves that it could be a safe haven. Nevertheless, the digital currency is still trading 62% below its November 2021 all-time lows of $69,000.
FED this week
All eyes will be on the U.S. Federal Reserve, whose monetary policy decision is expected on Wednesday. According to the latest consensus, a 25 basis point hike should be unanimously supported.
The larger issue of protecting the banking system and the economy takes center stage. The Fed will have to fine-tune between fighting inflation and over-tightening as central banks around the world try to live up to their reputation of hiking rates until they break something.
Let's look at the Fed's Balance Sheet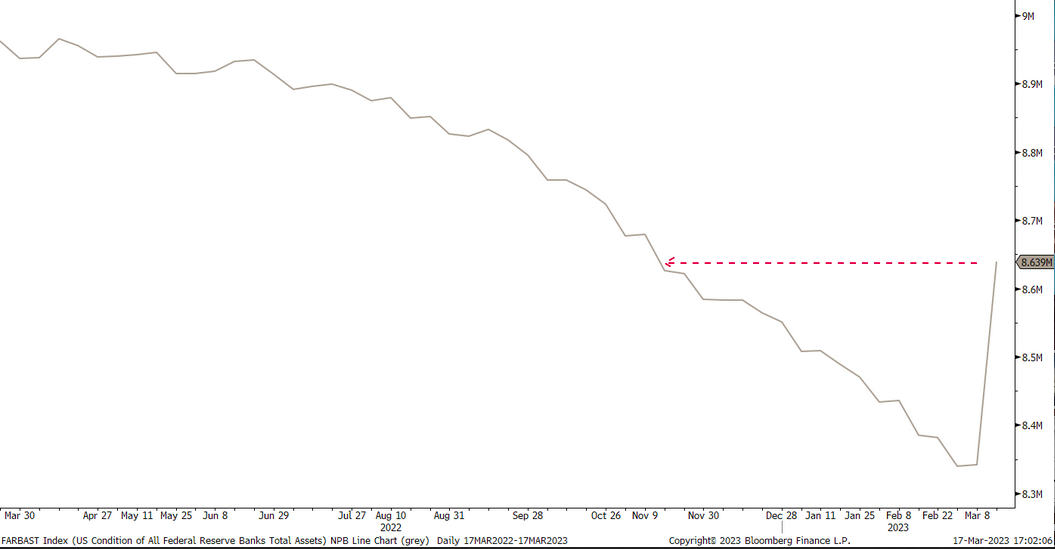 Yep, that's about four months' worth of Fed QT undone in just a week !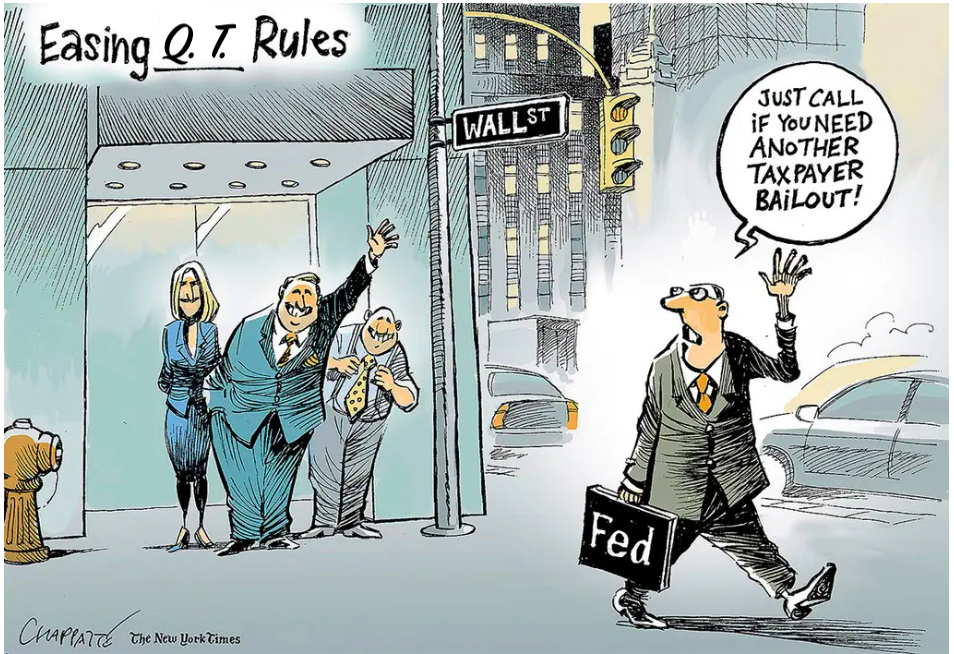 Market expectations have skewed firmly towards a 25-basis point rate hike by the Federal Reserve at its monetary policy meeting next week. The shift has been spurred by recent turmoil in the financial sector and the European Central Bank's decision to hike rates by 50 basis points. The market has shifted in the space of a week from expecting several more hikes, to just one and then three cuts by December: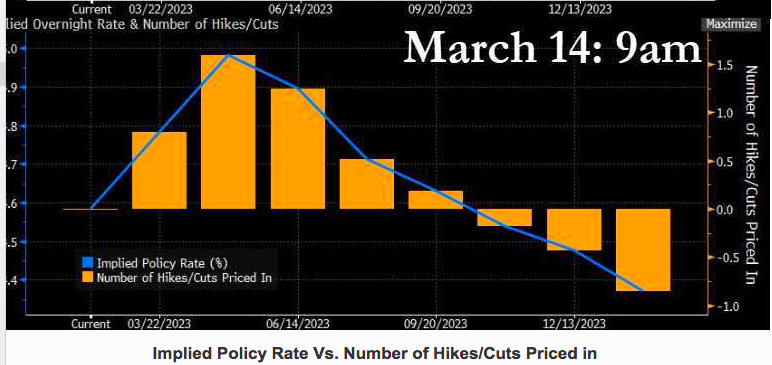 Source Bloomberg
However, the Fed is in a difficult position. After having told investors that it was making the fight against inflation its battle horse, a status quo could be particularly badly interpreted.
Beyond the loss of credibility, which is already well underway, it would be feeding those who think that a systemic banking crisis, a la 2008, is brewing. In this sense, the technical configuration of interest rates is also telling: US and German 10-year yields are close to turning points at 3.35% and 1.99% respectively. A break of these levels could be interpreted as a tangible sign of a coming recession.
As the U.S. central bank raises rates, things in the financial system start to "break", often resulting in a crisis. We had the Latin American debt crisis of the 1980s, the Long-Term Capital Management hedge fund crisis in 1998, the tech bubble bursting in 2000, and the U.S. subprime housing crisis of 2007.
In this case, U.S. regional banks have been under intense pressure since last week, following the swift closures of Silicon Valley Bank and Signature Bank, the second-and third-largest failures in U.S. history.
Happy trades
BONUS : The Sinking CS boarding UBS