Foreign Markets Strike Back !
March, 07 2023
It's a Big Investing World Out There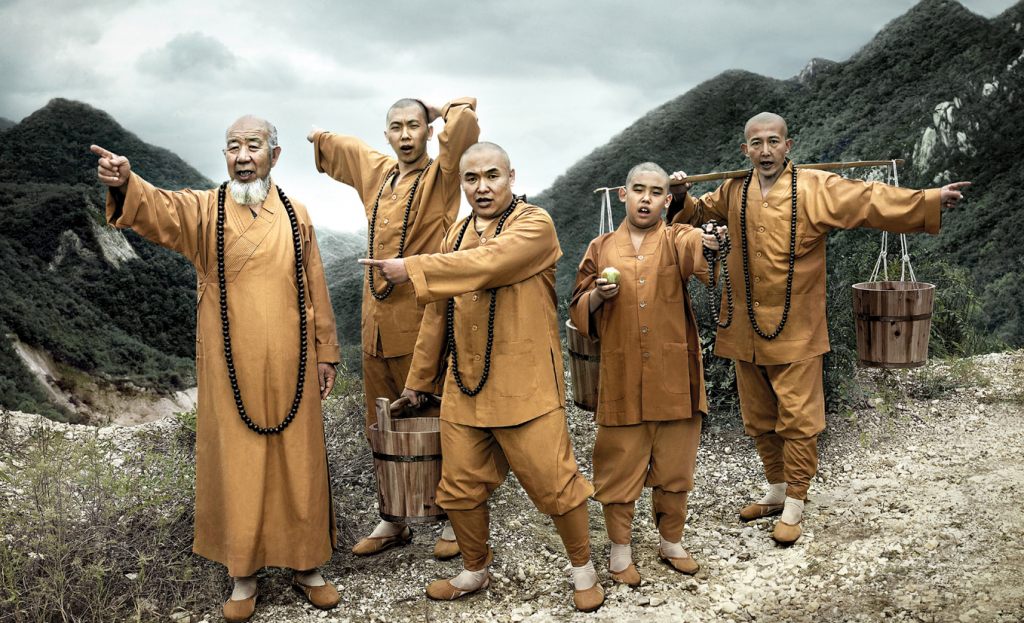 We turned positive on Emerging markets and Chinese equities end of last year as China gave up its zero covid policy as we explained in our latest investment strategy. Since then, other positive developments have fueled our positive investment outlook on Emerging and Chinese stocks.
Investors may want to consider keeping some exposure to foreign markets in their portfolios for returns potential and diversification.
Last year, after a decade of consistently outperforming the rest of the world's stock markets, U.S. stocks are no longer in the top 10, or even the top 20. In fact, they're No. 35 – because 34 international markets had better returns last year.
If you think this change in the stock-market hierarchy is just a one-year anomaly, think again. International stocks outperforming U.S. stocks may be a trend that sticks around awhile.
You can see from the steady upward slope that U.S. stocks had been outperforming the rest of the world since 2008, to a degree we'd never seen before. U.S. stocks, driven mostly by the performance of a handful of Big Tech stocks, absolutely crushed global stocks in recent years.
But they got a bit too far ahead of themselves. And now the tides are turning.
Two huge fundamental factors are driving the current turn in performance: valuation and profit expectations.
First, global stocks are dirt cheap right now compared to U.S. stocks. European stocks, for example, are trading with a forward price-to-earnings ratio (P/E) of just 12.2x expected earnings. U.S. stocks are trading with a forward P/E of nearly 18x.
That's more than a 30% discount in favor of cheaper European stocks. Emerging markets are cheaper still, with a forward P/E of just 11.2x, a 37% discount.
Second, not only are global stocks cheaper than U.S. stocks, but they're also growing profits faster.
When you buy stocks at "fair value," you usually get roughly what you pay for. But with global stocks, especially emerging markets, you're getting far more than you pay for right now. That's because global stocks are expected to deliver much stronger profit growth this year than U.S. stocks.
In emerging markets, it's the same story, only better because of even cheaper valuations. We discuss the opportunities below .
India should deliver 18.5% profit growth in 2023. Hong Kong earnings should grow 28% this year, and in Greece, you can expect 42% profit growth.
And yet Hong Kong stocks have a forward P/E of just 12.8x currently. And Greek stocks trade at just 10.2x this year's profit estimate. For my money, that looks like an incredible bargain.
Bottom Line: Too many investors suffer from nearsightedness when it comes to investing globally. In the business, we call this "home country bias."
EMERGING MARKETS
Emerging markets could also be an attractive destination for investors, thanks to young and growing populations, plus valuations that are even lower than those in developed markets.
The ETF has made a reversal last fall as the China turned down its Zero-Covid Policy. The next resistance is the 186 weekly MA.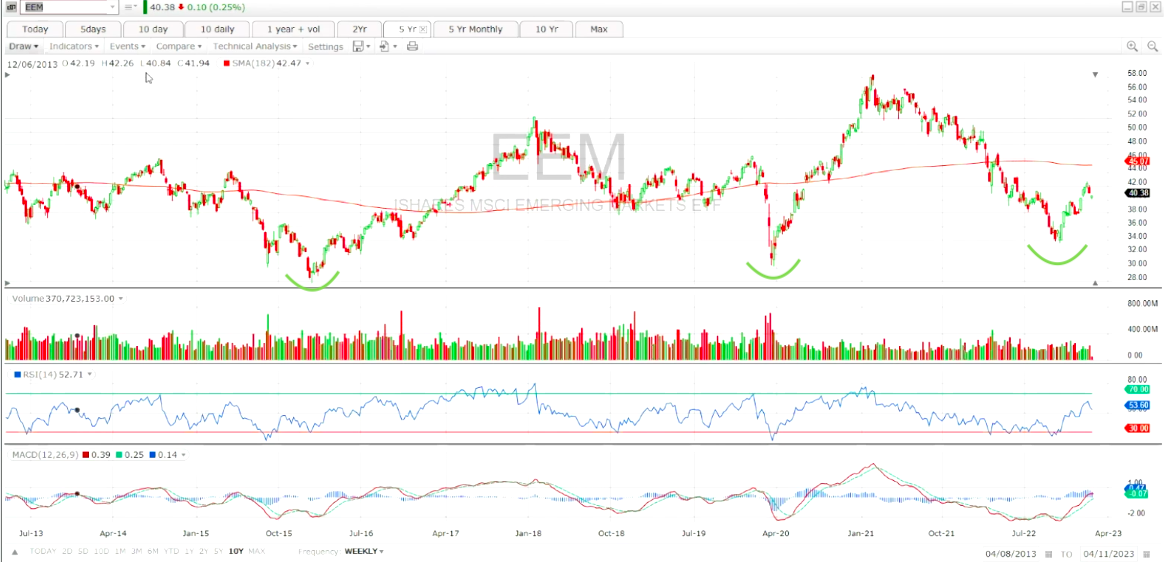 Valuations in less-developed countries are even lower than in developed ones and economic growth is significantly higher. The reopening of China, the world's second largest economy, after long COVID-induced lockdowns, has created attractive investment opportunities for both Chinese firms and international companies selling goods and services into the China market.
Value and growth in emerging markets
One of the main attractions of investing in emerging markets is that, literally, they're where the people are. Developing countries offer an attractive combination of young populations, strong growth in middle-income households, and expanding economies. Markets for many products and services that are already saturated in the US and other developed economies tend to be underpenetrated in developing countries.
China come back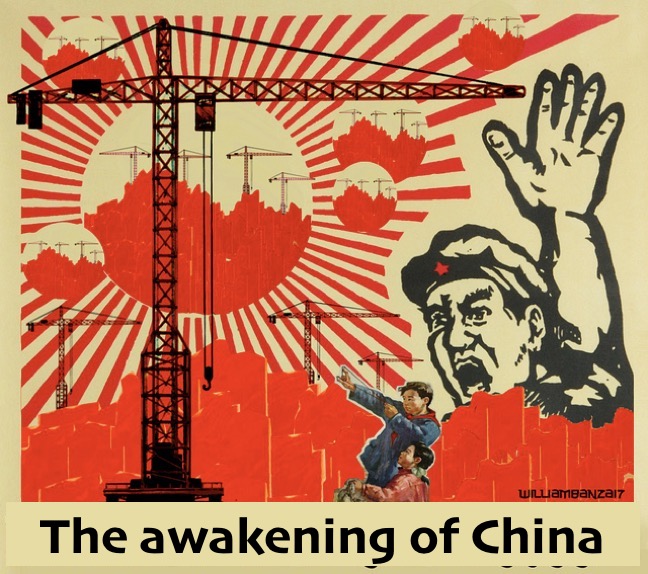 The country has put an end to the tightening of its regulations, implemented measures to support the real estate sector and finally lifted its "zero Covid" policy, a sign of revival for its domestic demand, which was strongly supported by Beijing's policy.
The Chinese government has recently adopted more accommodating fiscal and monetary policies to support the economic recovery through household consumption and small business activity. While most central banks in developed markets are trying to curb inflation by raising interest rates, China is following an expansionary monetary policy.
The excess savings accumulated by Chinese households during the three years of confinement and the recovery of the labor market, which had been significantly affected by the health situation, should thus contribute to the rebound in consumption.
Even after the recent bounce, absolute and relative valuations are attractive, according to ASR.
Take the 1.4 billion people of China, who are exiting a lengthy period of quarantine with abundant pent-up savings and demand for consumption. Pinduoduo illustrates the types of domestically oriented businesses that could potentially stand to benefit. Pinduoduo, which serves 900 million users, operates an e-commerce platform targeted at less-affluent, price-sensitive consumers.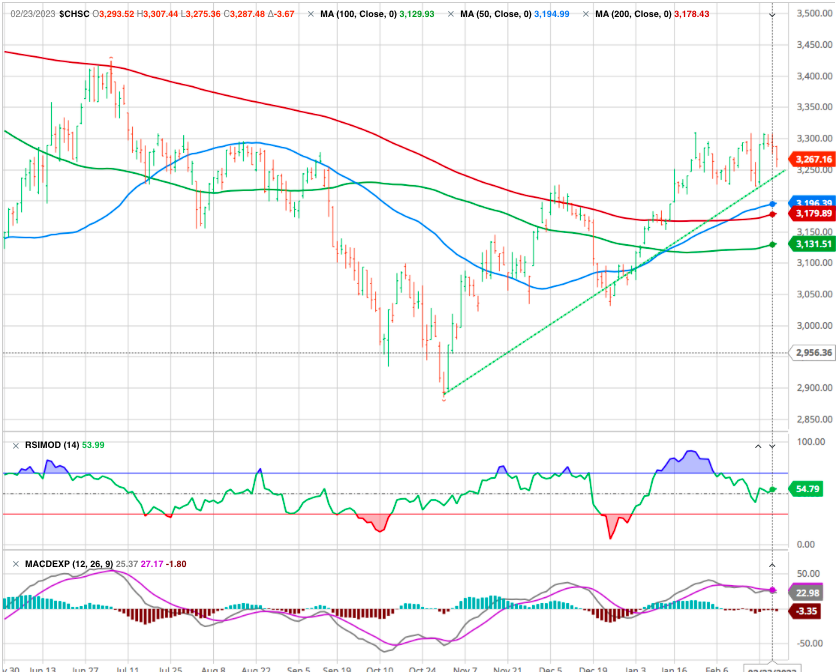 AIA sells life and health insurance policies in China (and Southeast Asia), where insurance penetration rates are extremely low compared to those of Western countries.
And China has many companies oriented towards domestic consumption, such as:
Anta Sports, the domestic sports equipment brand, which is gaining market share against multinational sports brands ;
Miniso, the low-cost retail chain specializing in Chinese everyday accessories, which is little known to investors, yet has 5,000 stores worldwide
Economic conditions are improving in other Asian and Southeast Asian countries, such as India, Vietnam and Malaysia.
The impact of China's reopening will extend beyond its borders. Penalized by the global economic slowdown in 2022, Korean stocks are also trading at attractive valuations today, especially in the new technology and semiconductor sectors.
For decades, South Korea has distinguished itself through innovation in the electronics industry and new technologies. The country is home to some of the world's leading suppliers of consumer goods such as smartphone displays, and other high-value-added electronic components such as semiconductors, ie Samsung Electronics.
Chinese recovery benefits Emerging Market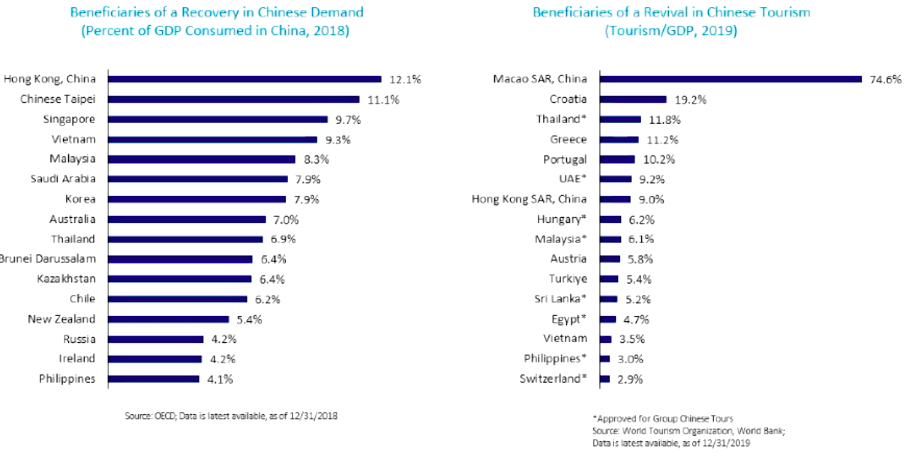 Economic conditions are improving in other Asian and Southeast Asian countries, such as India, Vietnam and Malaysia.
India also has a population of 1.4 billion, but the opportunities are somewhat different since the South Asian country is generally less developed than China (but growing faster than China in recent years) and with a younger demography. Political stability and growing fiscal strength at the federal government level are contributing to major investments and improvements in housing and infrastructure.
Companies that have exemplified this investment thesis include Housing Development Finance Corp. (HDB), which provides mortgage financing, and Reliance Industries (RLNIY), a diversified conglomerate with large businesses in energy, telecommunications, and retailing.
Companies can be found in a variety of markets  that meet his criteria of strong management teams, long-term growth prospects, and improving product quality and customer service.
Companies that have illustrated this focus are as disparate as Taiwan Semiconductor Manufacturing, the world's largest computer chip foundry; Localiza Rent a Car, Brazil's biggest car-rental company; and Mexico's Becle, the leading tequila distiller, with brands including Jose Cuervo.
ETF MEXICO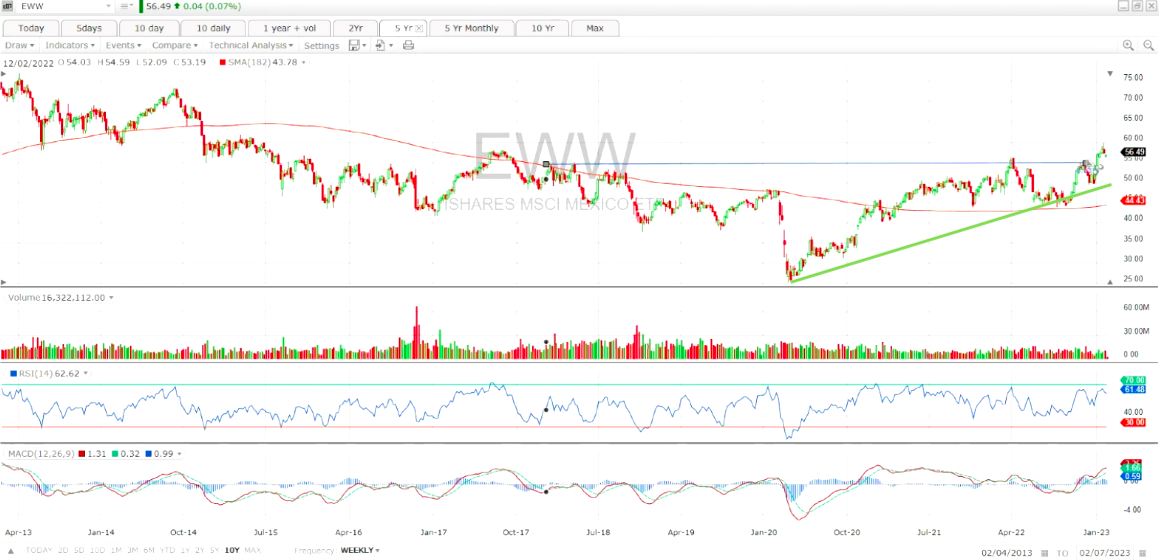 The backdoor to emerging markets
Another way for investors to tap into swelling industrial and consumer demand in developing countries is through products and services sold by companies based in industrialized nations.
China large cap ETF
For example, some vehicles for exposure to the Chinese economy is through foreign businesses such as Japanese industrial companies that aggressively tap the Chinese market. Developing countries (including China) are also large and growing markets for prestigious luxury goods brands. France's LVMH and Hermes International are 2 owners of powerful global brands that have illustrated this theme.
EUROPE
Opportunities have arisen in Europe due to the continent's renewed focus on energy independence and defense spending.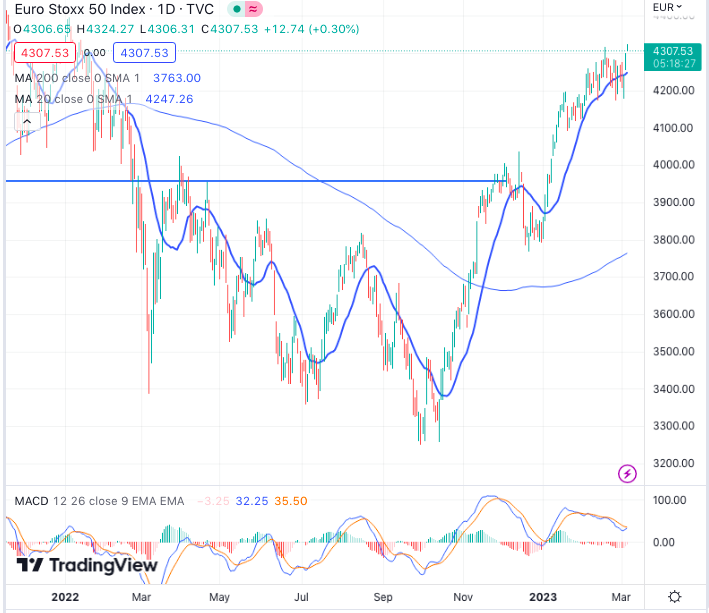 A new European focus on energy independence has unleashed a surge in capital spending for energy security across the continent. This includes seeking new suppliers of gas and oil around the globe, construction of new facilities such as liquefied natural gas terminals, and a redoubling of efforts in domestically produced renewable energy sources like windfarms, solar power, and battery storage technology.
Examples of major players in this energy transition include TotalEnergies, an integrated French oil and gas major with a large renewables business, and Germany's RWE AG, a leading generator and supplier of electricity from both renewable and conventional energy sources. Industrial gas and engineering firms, which are involved in carbon sequestration, the production of clean hydrogen, and the liquefaction of gas, are another type of potential beneficiary. Linde PLC has illustrated this theme in the highly consolidated industrial gas industry.
European countries including Germany and France have recently announced large budget increases in defense spending, which could provide potential opportunities for certain defense contractors. An example of a company that operates in this space is Britain's BAE Systems PLC ,  Europe's largest defense contractor.
While COVID disrupted competitive dynamics in certain industries, some companies were able to seize on to take market share and  creating attractive investment opportunities among businesses that emerged intact and even stronger.
For example, Madrid-based Amadeus IT, a travel-related software outfit, used its strong balance sheet to wrest market share from its 2 major competitors upon the collapse of travel and tourism during the pandemic.
We shall not forget Switzerland which offers large ca and small cap niches opportunities.
Until next time !
Bonus
 "The journey of a thousand miles begins with one step"
Lao Tzu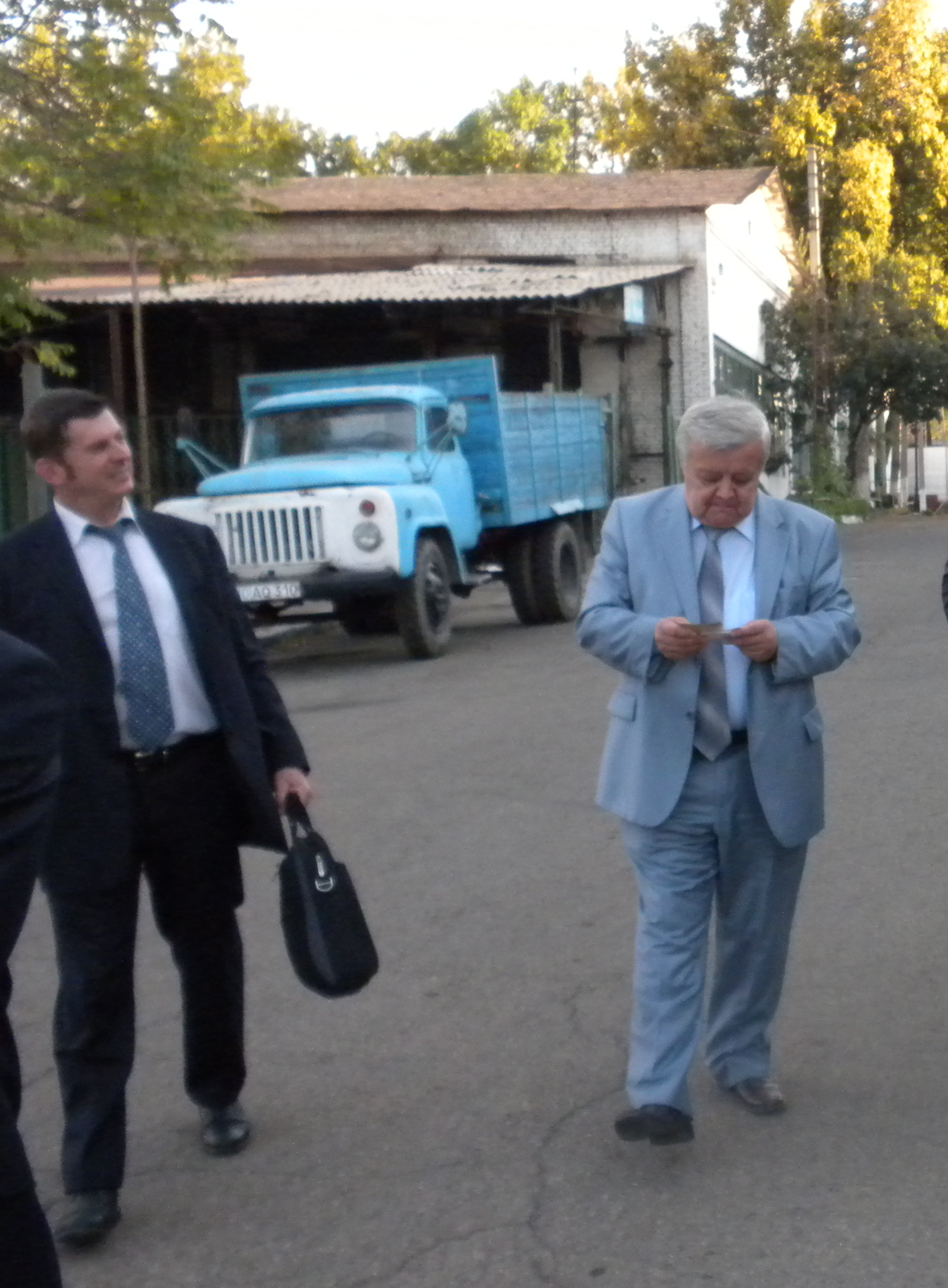 Your guide