WEEKLY MARKET REVIEW AS OF MAY 4
May, 06 2013
Investors may be fooling themselves about an ECB rate cut
As mentioned in the "Telegraph" by Ambrose Evans-Pritchard  "It is becoming ever clearer that the roaring boom in global equities since last summer has priced in an economic recovery that does not in fact exist. The International Monetary Fund has had to nurse down its global growth forecasts yet again. We are still stuck in an old-fashioned trade depression, with pervasive over-capacity in manufacturing plant and a record global savings rate of 25pc of GDP."
Rates continue to fall in the eurozone. For fiscally stressed Italy, the ECB's unveiling of the OMT last summer has helped considerably by limiting redenomination risk. This week's emergence of a rare grand coalition government has also helped make Italian bonds more attractive, although the lower rates are also taking pressure off of this new government to stick to the fiscal consolidation program.
Finally, the ECB's rate cut and generally dovish tone has also helped bring down eurozone rates more broadly, and indeed pulled German and French yields down to record lows. Never the less the euro zone is still mired in a sovereign debt and banking crisis, with a recession that isn't likely to go away so fast. We've already argued that even with the ECB slashing its target interest rate, the effect is unlikely to trickle down into the real economy, and particularly to small and medium sized enterprises (SMEs).
Equities:

 Risk appetites continue to be supported by easy monetary policy. Equities were mostly higher. The
 S&P 500 is now up 12.02% for 2013 at its all-time closing high.
 and DAX hit record highs. The Nikkei was the exception as it gave back some of its impressive gains posted so far this year, the Japanese Nikkei stock index is in a well defined and powerful uptrend. Since making a low of 8,619.45 on 13 November 2012 the index has rallied an incredible 58.9% and is currently sitting at 13,694.04.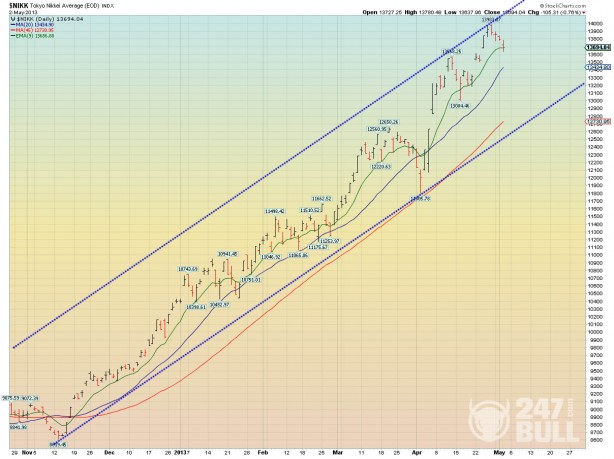 Bonds:

 The ECB rate cut and the Fed's dovish policy statement kept bonds bid most of the week, although the bid slipped after a better than expected US jobs print. Speculation that the RBA could cut soon also pulled down yields on Aussie bonds.
Currencies:

 USD and JPY weakened as central bank dovishness and good US jobs headlines eroded safe haven demand.
Commodities:
Oil was offered following reports of record high US crude inventories but it caught a bid on dovish signals from the Fed and ECB. The WTI weekly chart reveals that a larger scale triangle pattern is taking shape. 
If the lower support line were horizontal then the pattern would be classified as a descending triangle, which is generally considered bearish. As it is, only time will tell, however a breakout in either direction could produce a significant move, and the longer the price remains in the pattern, the more energy it will build.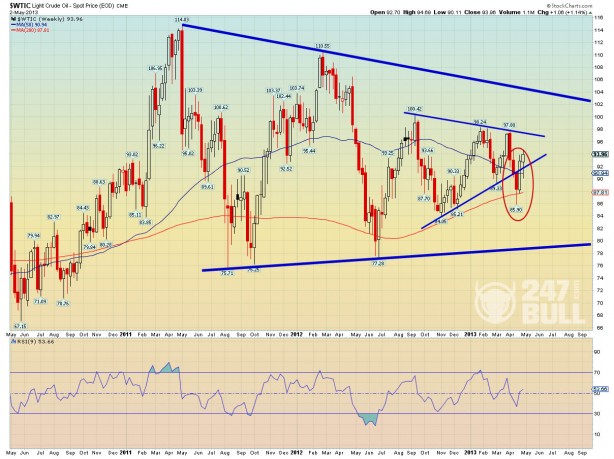 The good US jobs headlines also helped. The dovish central bank signals also kept gold bid.
A word of caution 
It is extraordinary how media hype creates perceptions which are totally unrelated to the underlying reality. An excellent example is the "US – industrial Renaissance" – which would be great news – if it existed. More on the US economic "recovery" – this is very relevant to the future of the West…it reveals a fundamental failure of a politico-economic system. From the FT.  And according to Morgan Stanley, it is a mirage.
Rebutting speculation that American industrial companies are repatriating production from abroad, Morgan Stanley economists and strategists say in an April 29 report that "there is little real evidence" of a resurgence in U.S. factory output. Capital spending is still at depressed levels, while private sector investment in areas outside of construction and technology is also at the lower end of the weak range of the past decade.
Morgan Stanley polled 266 companies and found larger manufacturers expected to allocate a stable proportion of budgets to the U.S. in the next five years. At the same time, executives continue to view China and emerging markets as superior growth regions and so need to be based there.
Morevover commodity prices have been falling since September, culminating in a rout over the past month. That is a classic warning for the global economy.