MARKETSCOPE : The Perfect Storm
May, 09 2022

The Main Purpose of the Stock Market is to Make Fools of as Many People as Possible !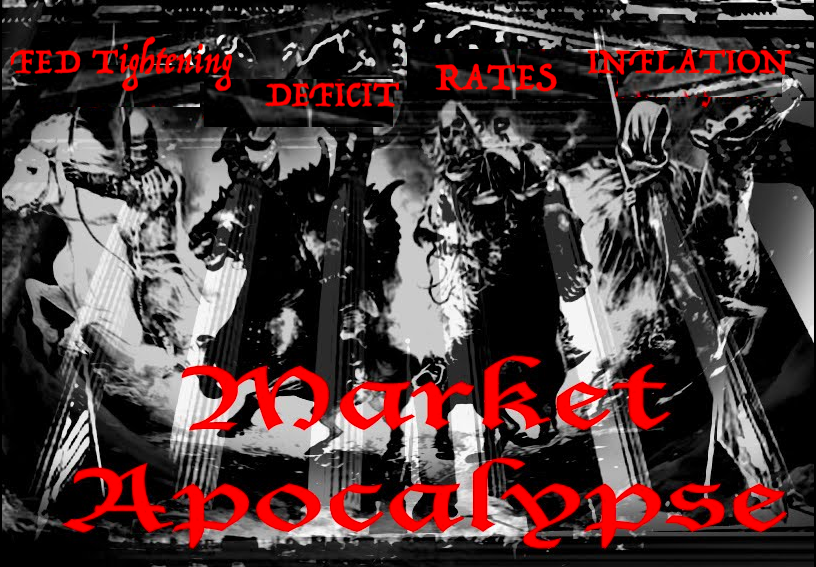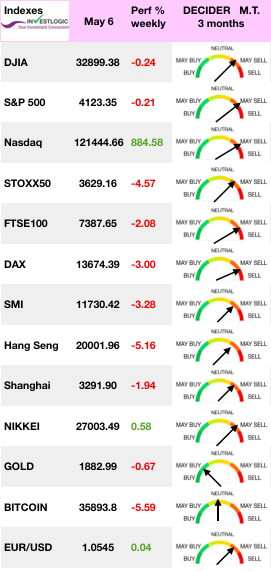 The market was expecting a rate hike, the Fed confirmed it Wednesday. It will be 50 basis points. Quantitative tightening will take the form of a monthly reduction in its balance sheet of about $47 billion per month starting in June and accelerating to $95 billion per month in September.
What's more, geopolitical tensions are at all-time highs with the prospect of a possible World War lll on the table. Unbelievable.
This has created a perfect storm of pain for investors with seemingly nowhere to hide and no end in sight. The markets are at a point of no return.
It was quite a stock market rollercoaster with a massive surge on Wednesday, the biggest gain for the U.S. stock market in almost two years at the close, followed by an equally significant plunge on Thursday, the major averages had their worst day since 2020. It was a full-fledged liquidation, nothing was spared.
Friday the selloff continued with energy in the green. The Nasdaq Composite and the small-cap Russell 2000 ended the week firmly in bear markets, down more than 25%. Volatility is both gut-wrenching and exceptionally hard to manage.
The flight to safety also did not materialize this time around (except for the dollar perhaps), with everything from gold to U.S. Treasuries joining the selloff on Wall Street.
The U.S 10-year yield climbed as high as 3.13% on Friday. The dollar rose while cryptocurrencies tumbled.
Shares in Europe tumbled amid fears that central banks may have to step up their efforts to control inflation, potentially increasing the risk to economic growth. Chinese markets fell as Beijing showed no sign of
relaxing its zero-tolerance approach to the coronavirus.
Five days in the life of  the NASDAQ Composite
When Bubble Meets Troubles
US ISM Manufacturing PMI published early May is at a current level of 55.40, down from 57.10 last month and down from 60.70 one year ago.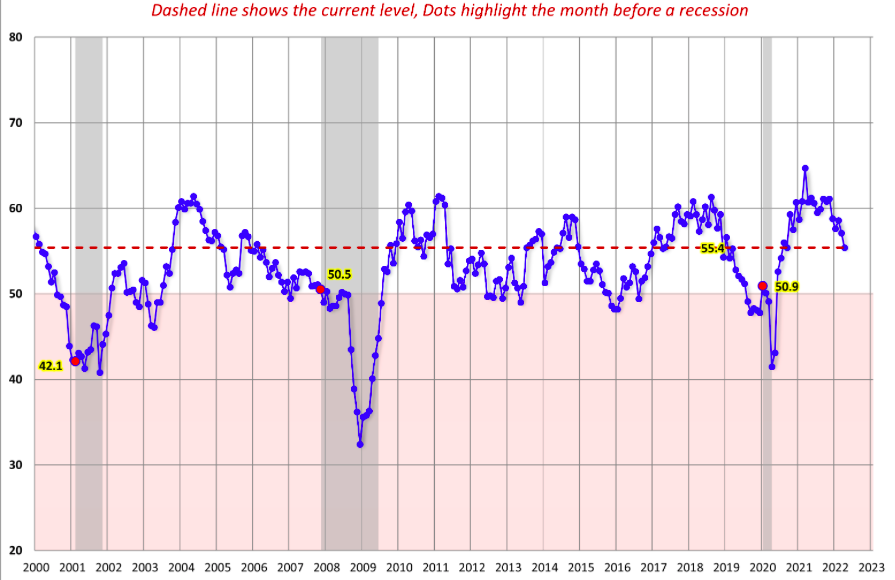 We stick to our proprietary ABS matrix road book and keep favoring more defensive sectors.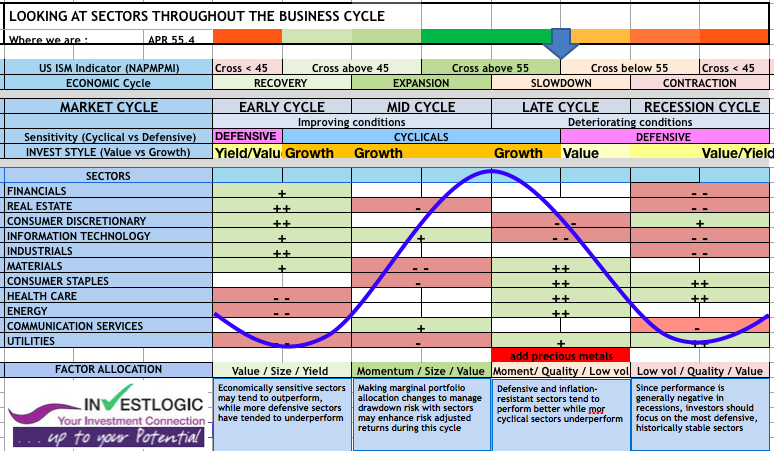 Growth stocks underperformed amid rising interest rates
One of the major equity themes so far this year has been the underperformance of growth stocks given their heightened sensitivity to changes in interest rates.
As interest rates rise, investors are less willing to pay up for the promise of much higher profits generated by growth stocks far out into the future and prefer more attractively priced value stocks.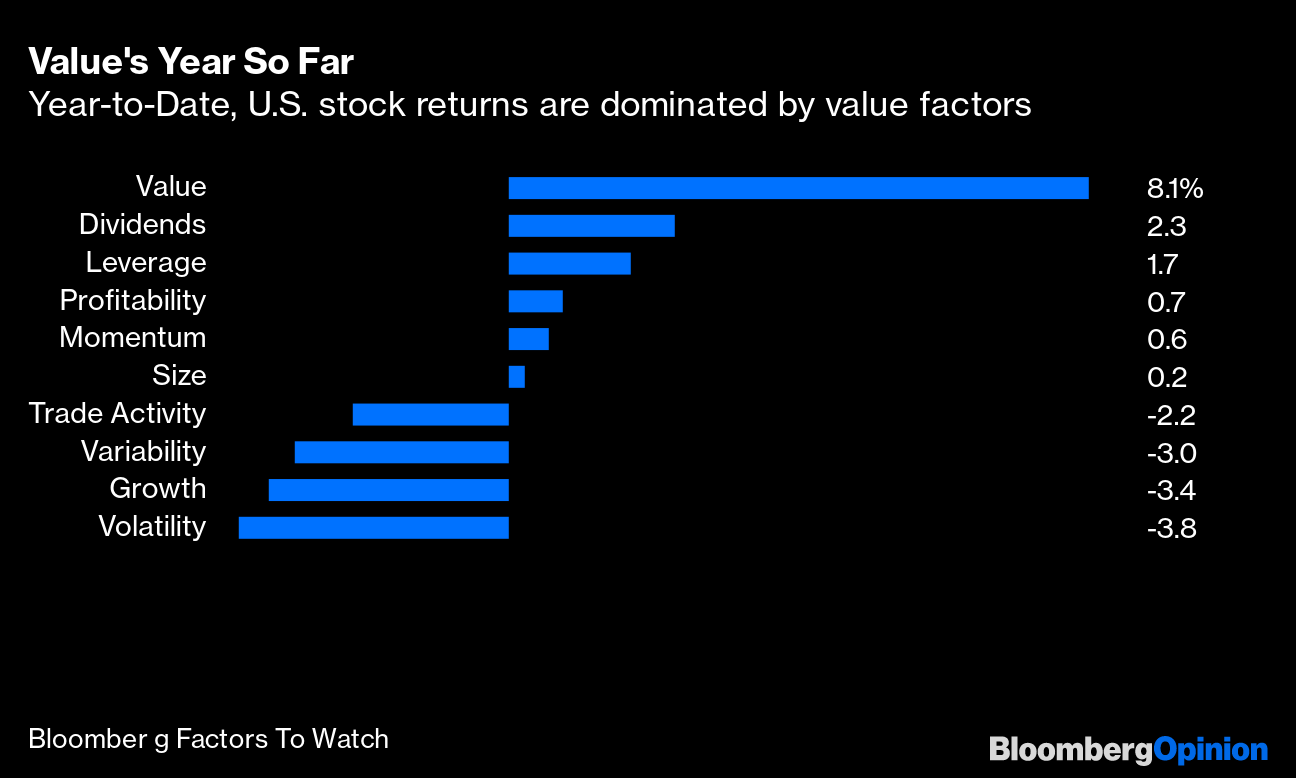 Growth stocks could continue to come under pressure in an environment where central banks remain hawkish, inflation proves more difficult to calm and yields push even higher.
MARKETS : Trends in Perspective
World Markets as of May 2
Many western indices broke technical supports, accelerating the decline at the end of the week. Panic is being felt.
NASDAQ reached a new (weak) support. Objective is  61.8% correction of the last uptrend (10250), SPX 3800) close to the next support (green dot line) in a developing wave C.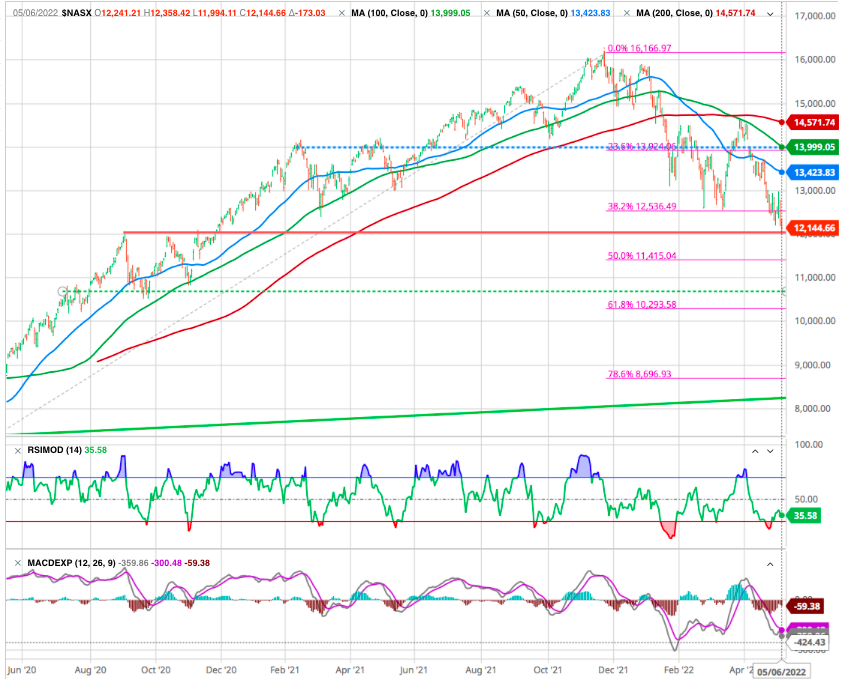 Note that while the S&P 500 has dropped more than 13% YTD, Berkshire's stock is up more than 7%. Will it send a signal to some investors that are running for the exits, or even trigger a shakeout that could help some value investors?
 "Be Greedy When Others Are Fearful and Be Fearful When Others Are Greedy." Warren Buffet
The Oracle of Omaha is starting to buy stocks again and it might be a good signal to start long term buying…
The European stocks are also going to test their previous low and probably move lower getting higher pressures from the Ukrainian war and the ECB.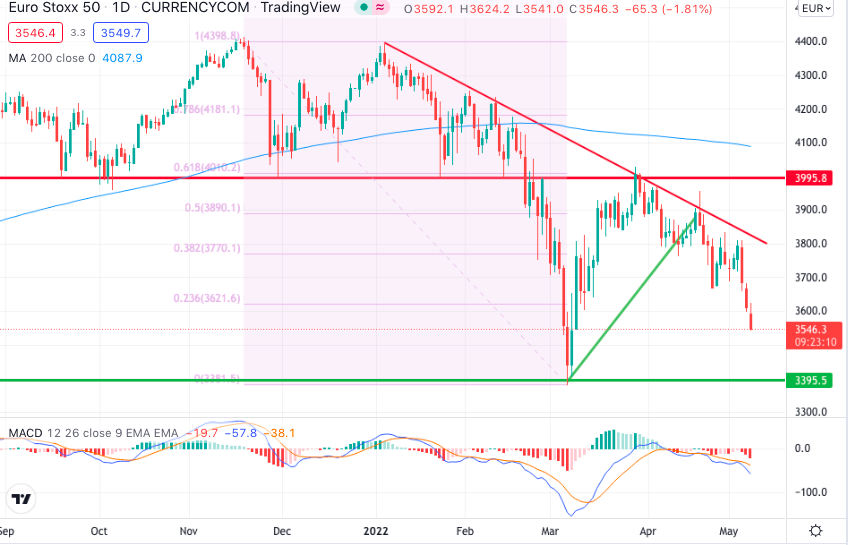 BONDS
On the bonds front, the famous post-Volcker downward trend in 10-year Treasury yields appears to have broken. There have been false alarms before, but this is the biggest deviation yet.
USD
Another trend survives despite a reversal today. The dollar is strong, very strong. It's far ahead of its long-term course to an extent that hasn't been seen in years. The Wednesday selloff had virtually no effect on this.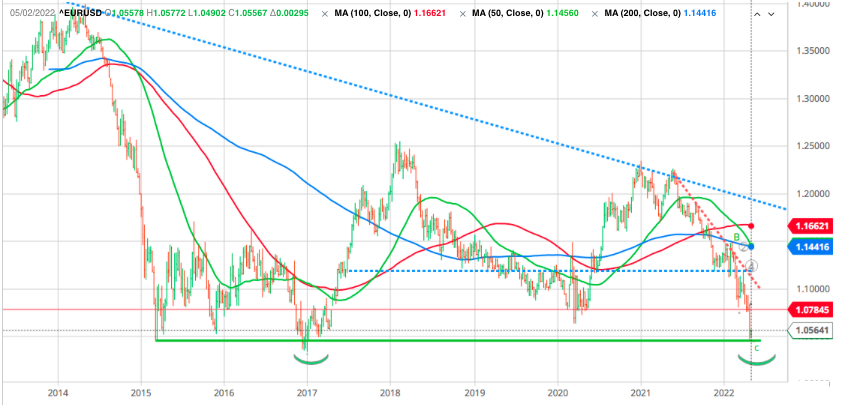 Nevertheless some counter trend could develop for the DXY.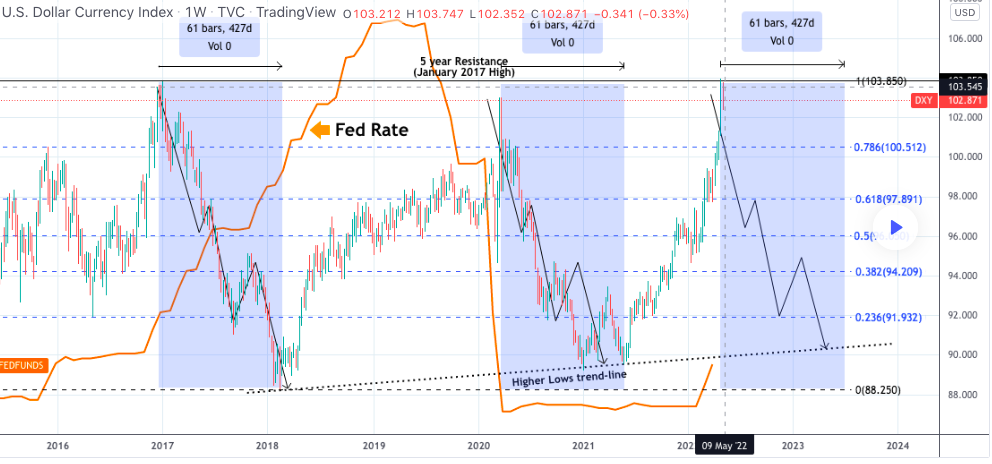 Last time the FED started moving aggressively was in December 2016. This was a time that the Fed decided to commit on an aggressive hike policy in order to effectively end the QE era that helped the economy recover from the 2008/09 subprime mortgage crisis. At that aggressive round of hiking, the DXY was exactly on the (Resistance) level it currently reached. As the FED commits  a new aggressive round of rate raising in order to battle an inflation that is out of hand, the U.S. Dollar turning bearish is a real possibility.
CRYPTO : Blood Bath
Buffett doubled down on his outlook of the popular crypto at Berkshire Hathaway's annual shareholder meeting. "Nobody wants their windpipe stepped on and I don't blame them. I don't like people to step on my windpipe, but I will say this," declared Buffett, who has previously referred to Bitcoin as "probably rat poison squared."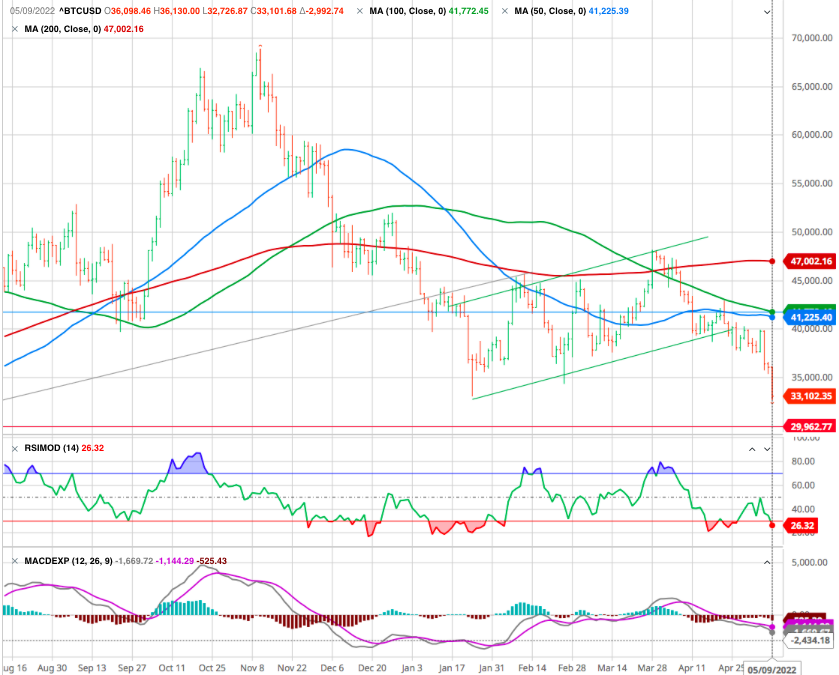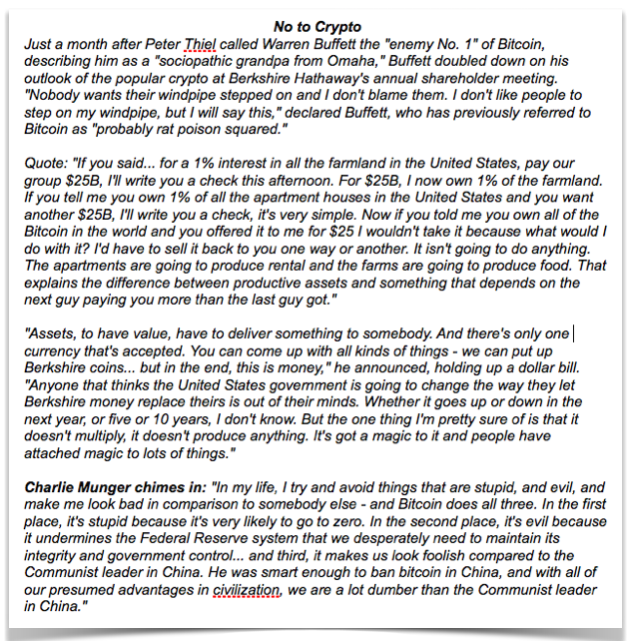 If we look at the NASDAQ 100 which peaked out on November 26, 2021, and we compare it to Bitcoins which peaked out on November 10, 2021, we can see that the buyers of NASDAQ 100 type of stocks are most likely to be large players in the cryptocurrency markets as well. Since their respective November 2021 tops, the NDX100 is down 22% and Bitcoins 42% . In fact, an even closer correlation seems to exist between the ARK ETF and Bitcoins since both are down about the same since their November highs.
FED : Recession
As Shakespeare would say, the worm has turned. The Fed has turned from dovish to hawkish. Inflation is out of control, at 40-year highs. Fed policymakers announced a 50-basis-point rate increase, the largest since 2000. Officials also announced that the Fed would begin Quantitative Tightening in June at a monthly pace of USD 47.5 billion, stepping up over 3 months to USD 95 billion.
The chart below from Robert Lance (RIA) lays out the planned path of the taper(expending to end 2023).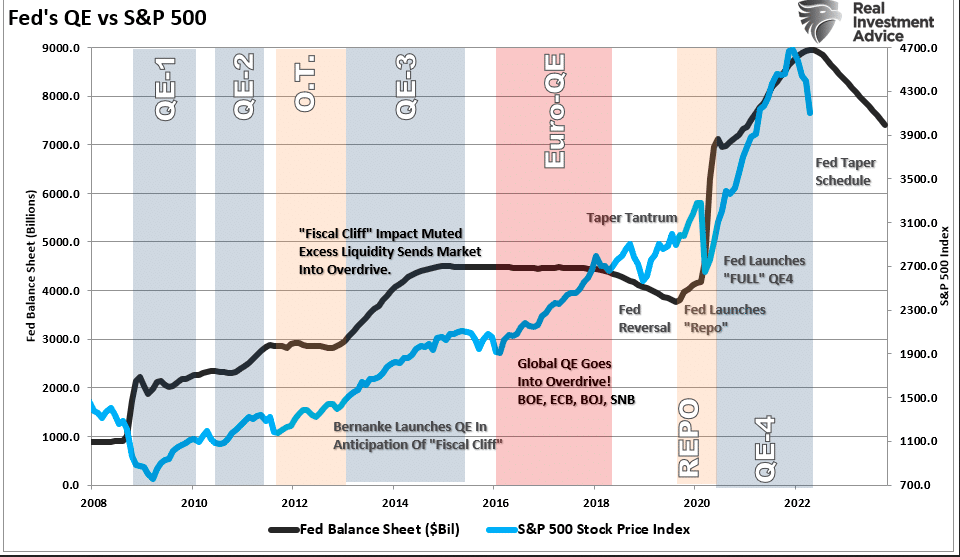 The following chart from the foreign exchange team at Commerzbank NA defines a soft landing as an episode in which the the fed funds rate is raised without prompting a recession. Three-quarters of hiking campaigns end in one. The last soft landing came in 1994 — and many would complain that the Alan Greenspan Fed on that occasion sparked a recession in Latin America and the rest of the emerging markets, even if one was avoided in the U.S.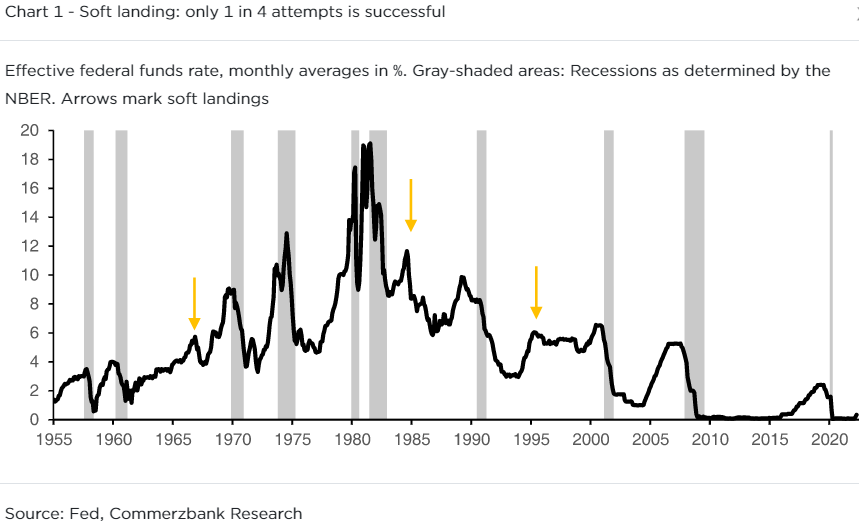 The Fed is indeed "removing the punch bowl" from investors at a very late stage of "the party". Not surprisingly, this year's stock market rollercoaster generated an extreme level of negative sentiment. Investors remain nervous about the Fed's ability to tighten financial conditions to combat inflation at 40-year highs without knocking the economy into a recession.
STRATEGY :  Time to Be a Dairy Cow, not a Racehorse
It is probably best to walk around slowly, chewing your cud a little bit here and there and keeping your own counsel while everyone tries to distract you, and not run back and forth across the field worrying about whether you're running faster than the other horses, or whether your mane looks as majestic.
Not surprisingly, this year's stock market rollercoaster generated an extreme level of negative sentiment.But is this the time to immediately begin dumping stocks and running into cash? That is the question we will explore further this week in our monthly strategy. (end of week).
Happy trades
Bonus : Thunder Road