Here's what you need to know about the most recent developments for AI (ChatGPT in particular), the chip stocks underlying this unfolding technology, and the hopes (plus some palpable fears) that have been downloaded into the consciousness of investors and the general public.
ChatGPT and the rise of the machines
Tech was in the doldrums for most of last year. But with the launch of OpenAI's ChatGPT in November 2022, AI seemingly leapt from the realm of science fiction to reality, and the tech sector (chip makers especially) has leapt with it thus far this year. The PHLX Semiconductor Index (SOX), which tracks chip stocks, has surged 50% this year through July 17, compared with a 35% loss in 2022.
-see above charts- .
ChatGPT, which uses algorithms to generate text and conversational language directed by user prompts, reached 100 million users in January 2023 (Reuters)
While Silicon Valley firms have been investing in and experimenting with AI for years, many investors see ChatGPT as an inflection point. It has not only opened a new chapter in the evolution of the technology, but also helped reinvigorate the narrative for the tech sector in a relatively brief period.
AI-driven Gold Rush
Many of tech's biggest names—including Microsoft, Alphabet, and Meta —have cited AI as a central catalyst for future growth. Key areas include AI-enhanced web search, cloud infrastructure, chatbots, and various tools for developers and engineers to write code.
This AI-fueled optimism, following a punishing year for tech valuations in 2022, has helped propel several large-cap tech stocks to record highs so far this year. The long-term durability of the tech rally, however, has sparked debate among some Wall Street analysts over whether there could potentially be a repeat of the dot-com era's boom-and-bust cycle in the early 2000s.
With technology companies embarking on what they believe to be an AI-driven gold rush, the semiconductor sector has had the spotlight on it supplying the picks and shovels enabling big tech's ambitions.
Chip sector ahoy!
Shares of several chip makers in particular have advanced thus far in 2023 amid growing demand for the processors that power the computational scale needed to build the innovative applications and products for AI—like ChatGPT.
Nvidia, which has emerged as the global leader in supplying graphics processing units (otherwise known as GPUs), reflects the intense demand for the chips behind AI technology. These chips, which are also used to render graphics and imagery for video games, have become essential to perform the complex calculations needed for running and training AI models.
Nvidia's share of the GPU market rose to 84% in the first quarter of 2023, up from 75% in the same period a year earlier, according to analyst firm JPR. Two of Nvidia's competitors, Advanced Micro Devices and Intel, commanded 12% and 4%, respectively.
What is generative AI—the tech behind ChatGPT?
ChatGPT is a chatbot based on generative artificial intelligence that uses algorithms to analyze and interpret massive quantities of data to create content, including text, images, audio, video, and computer code.
Use cases for generative AI are increasing as the technology improves. Proponents of this technology believe it has the potential to transform how many jobs are performed. It can parse large data sets and identify patterns and trends, translate languages, produce artwork and branding images for graphic designers, write resumes, create animation, and much more.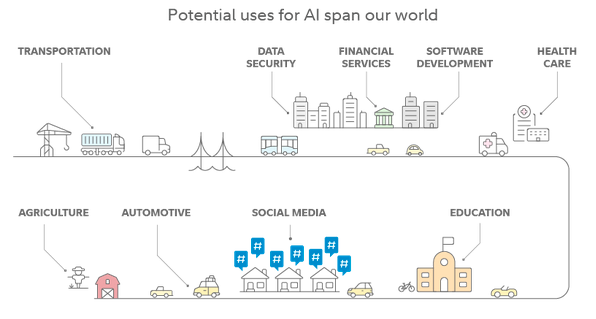 Source Fidelity