Sustainable Investment has Entered the Mainstream
August, 21 2013
What very few invest in, will shape everyone's future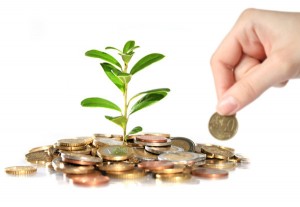 As mentioned in a previous comment (see SRI in Europe : Reasons of Success ) High Net-Worth Individuals in Europe have strengthened their commitment to sustainable investment, causing the sector to grow steadily.
The value proposition of sustainable investment and impact investing, combining both financial interests with sustainability concerns, make these strategies a valuable fit with any HNWI investment portfolio. The fact that many HNWIs who have tested sustainable investments are shifting more assets into these strategies reflects that. This should be no surprise, even in terms of great market uncertainty, as the effects of these strategies are magnified over time and align well with the long term perspective and wealth preservation objectives of HNWIs.
It shows that appetite for sustainable investment is at an all-time high. It makes not only ethical and moral sense to opt to invest your money sustainably, but also financial sense. It's important not to be misguided from allowing your money to make a difference, so seeking advice from a specialist ethical financial adviser who knows what they're talking about is the wisest initial step to take.
To better understand it and to help you figure the right investment solution we  propose you to look at several excellent researches.
Sustainable Investing Research by UBS which presents the evolution of sustainable investing, anticipates developments in it and demonstrates why we believe a sustainability approach will add value to client portfolios. Crucial to this approach is that money is being invested in a way that reflects clients' values, serves long-term financial interests and fully considers the welfare of future generations.
The report says that an "unsustainable credit fuelled growth", along with other factors, created the "greatest financial crisis of our time". As such, there is unanimous consensus within the industry and among its professionals that the "unsustainable economic and industry trends cannot be allowed to continue". Speaking directly about what sustainable investment can bring for investors and business alike, the report outlines the performance differences.It mention research which suggests companies that focus on environmental, social and governance (ESG) issues, or a broader social responsibility commitment, can improve access to finance.

Inside The Guide To Sustainable Investment 2013 you'll find exclusive interviews with some of the sustainable investment industry's key players  as well as insight into some of the most popular investment strategies and funds and testimonies from a number of ethical investors. It becomes abundantly clear that sustainable investment really is becoming a mainstream consideration for investors.
While there was a time when ethical, sustainable and responsible investment were very much niche areas, in the 21st century, investors want much more than just a decent financial return from the money they've invested. Environmental, social and governance (ESG) issues are now seen as paramount to a large proportion. This shift is being led by some brilliant organisations, and is placing sustainable investment at the forefront of a really significant change in the investment industry.

And the Guide To Equitable Funds 2013 which help you to look for or ask about funds that take the best approach in the issues your are more concern of. So there you have it. These are just five of the positive investment options for the enlightened and engaged investor.
Climate change – it's a clear and present danger to our way of life
The environment – there's more to the biosphere than the climate
Equity and equal opportunities – sustainability is about people as well as the planet
Human rights – no really; humans and their rights really matter
Positive business focus – and sustainability means stronger profits
Can we change the world for the better?
Our future is looking increasingly uncertain – the environment and our economy are both under huge pressure. And while there are heated debates about whom or what is contributing most to that pressure, we can all agree on two things:
Pollution is a 'bad thing'. We are polluting our environment, poisoning the air we breathe and the land and seas that provide our food. We're slowly poisoning ourselves and our children
Waste is a 'bad thing'. We're wasting limited resources at a terrifying rate, creating shortages. Prices will inevitably rise and our future will become more volatile and frightening
There are many ways to live a less polluting and wasteful lifestyle and there are many great people and analysts that promote those lifestyles.
But you need to follow the money…
In reality, it is financial markets that drive most of the world's activity. For every single dollar, euro, pound or yen traded in the real world economy on real goods and services, 26 (that's twenty-six) are traded in shares, commodities, derivatives and currency.  It's what we invest in that shapes our economy, which then creates the pollution and waste.
See
The Sustainable Stock Exchanges Initiative
   NYSE Euronext, the parent company of the New York Stock Exchange, has on July 24, 2013 announced that it will join the United Nations Sustainable Stock Exchanges (SSE) initiative to promote sustainable capital markets. We also note that on July 1st, 2013, Luxembourg Stock Exchange launched a new index on the Sustainable investment Funds.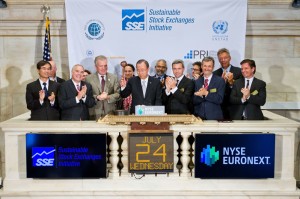 Get the right advice
So there you have it. A large number of financial advisers would simply place your money with whoever paid them the most commission – until returns kicks in at the end of the year, and then they won't touch you unless you're wealthy. Remember, financial advisers are human and dependent on their bounded rationality, experience, prejudices and need for income.
The enlightened and engaged kind of people tend to want to place more importance on ethical considerations but it's a continuum from dark green (maximise good) to light green (minimise harm) to couldn't give a fig (sin stock territory).An ethical independent financial advisor is simply one that has specialist knowledge of ethical stocks and funds. He is required to take into account your ethics and values.