Roar with Confidence in 2022 the Year of the Water Tiger
February, 01 2022

Eyes of the Tiger
2022 is the Year of the Water Tiger, which officially begins on February 1 in the Oriental lunar calendar. Feng shui experts predict that it will be a year made for bold action, since the tiger is known for its power and ability to do everything on a grand scale whereas water is associated with being sensitive, creative, and open to change.
The Chinese always believe that when the Tiger arrives, wealth also arrives! But wealth can only be achieved when this animal is content, a hungry or angry Tiger can be ferocious! This year also brings unforeseen changes, amazing developments and advances, both in technology, medical and psychological research.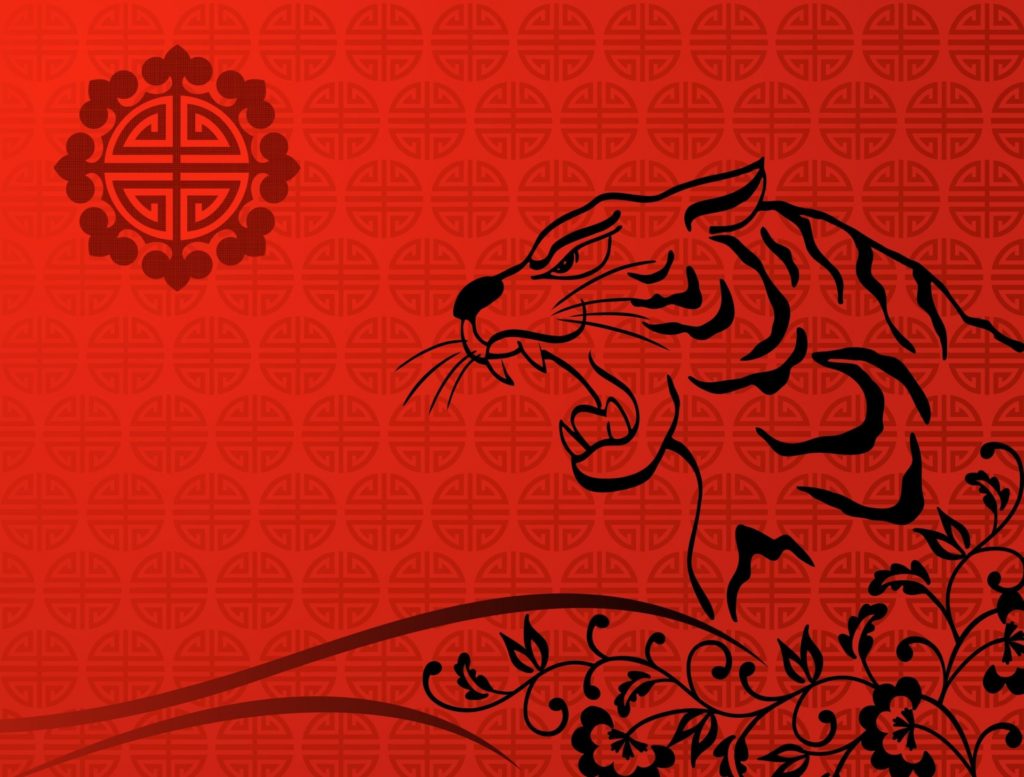 While the coronavirus pandemic continues to affect our lives and economic conditions remain uncertain, we can expect the tiger, known for its power and change, to bring us incredible change in 2022. The downside of bravery and change is impatience and carelessness. On the flip side, it can mean anger and recklessness.
The markets will evolve less favorably and with more volatility like the discrete tiger that moves stealthily but can spring up at any moment. Investors should limit their risk taking and be on the lookout for opportunities and/or sudden moves  in one or the other roar direction. The noble tiger will lead us on a journey of twists.
Bear in mind that the tiger is not a peaceful animal while wood is often associate with wind.It is advisable to be particularly careful and parsimonious.
The water wood element of 2022 is expected to bring prosperity to metal industries and earth industries; this is because metal conquers wood, so the wood element is a symbol of money to the metal industry, which includes banking, high tech, car, machinery, engineering, beauty and skin care…..
The second best industries could be earth, as earth conquers water  so the water means money to the earth industry.  Earth industries are property, mining, insurance, computer software….
Water industry sees wood as  productivity, so water industries will also benefited from the growth and movement nature of wood.  Water industries are communication, transport and shipping.
Wood industry is facing serious competition, wood industries are textile, media, paper, magazine.
Fire industry(food & beverage, finance, stock, energy, to name a few) is not making money in Tiger year as there is total absence of metal which is their money.   The internet sector, however, may lose some of its shine. Its natural element being fire means investors should expect a mediocre outlook.
In contrast, metal is entirely absent this year, bringing challenges to the financial markets.
In summary, the industries that will perform better in the year of the Tiger will be industries related to Metal element and Earth element.  Metal industries are banking, machinery, engineering, car , beauty and skin care….. Earth industries are property, insurance mining, high tech….The other industries of fire, wood are into not so prosperous year in 2022.
ROARING TIGER into 2022?
Chinese stocks became the pariah of the investment world last year, with the MSCI China Index losing 23%.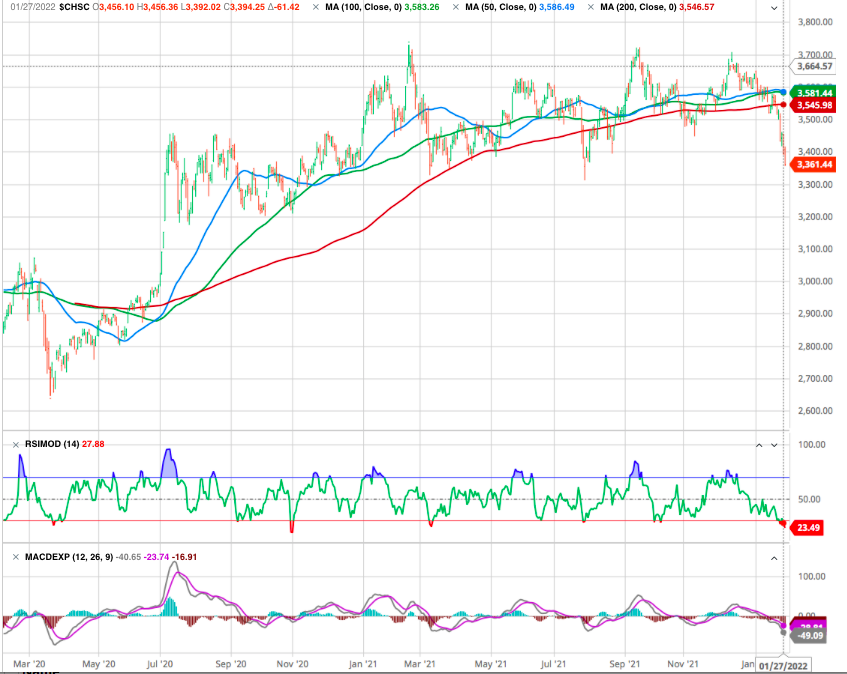 In a year filled with notable market phenomena, one of the more notable of 2021 was the dramatic divergence between US and Chinese tech stocks. While the former consistently surged to set new highs the latter crashed, giving back all of its gains since the onset of the pandemic and then some.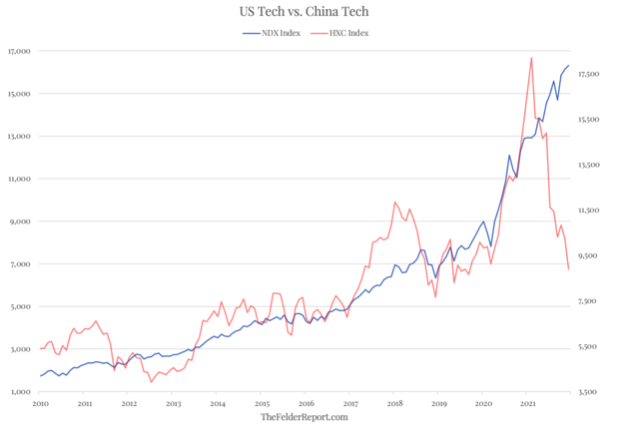 The popular reasoning for the crash in the Golden Dragon China Index (HXC) argues that the Chinese government crackdown on many internet-based businesses was responsible for a major reset in the valuations of the associated equities. While this may be true to some extent, it is also true that the downturn in the Chinese credit cycle may have played a major role, as well.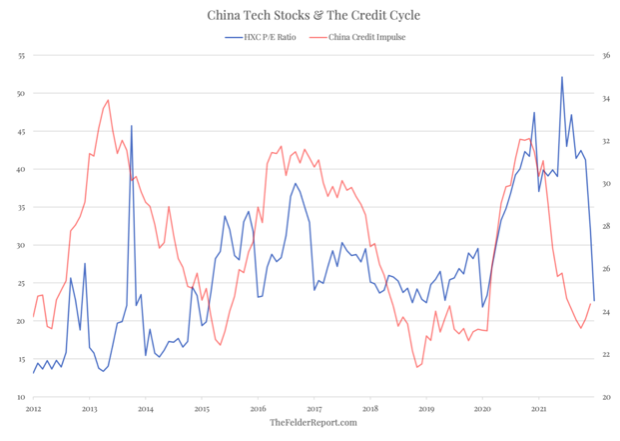 While U.S. investors are grappling with tighter monetary policy, the drumbeat of easing in China is getting louder. It remains to be seen what appetite Beijing has for stimulus, especially regarding its policies on the housing market. But the prospect of easing is one of the necessary conditions for the Chinese equity market to perform well.
In recent years, MSCI China has been either one of the best or worst performers in global assets, as shown in this table below compiled by Morgan Stanley. When it sat at the bottom, it tended to come back with a roar the following year, and vice versa. For instance, the MSCI China Index's 19% loss in 2018 was followed by 24% gain in 2019. And going long 2020's loser (REITs) and short its winner (MSCI China) would have been a terrific trade last year.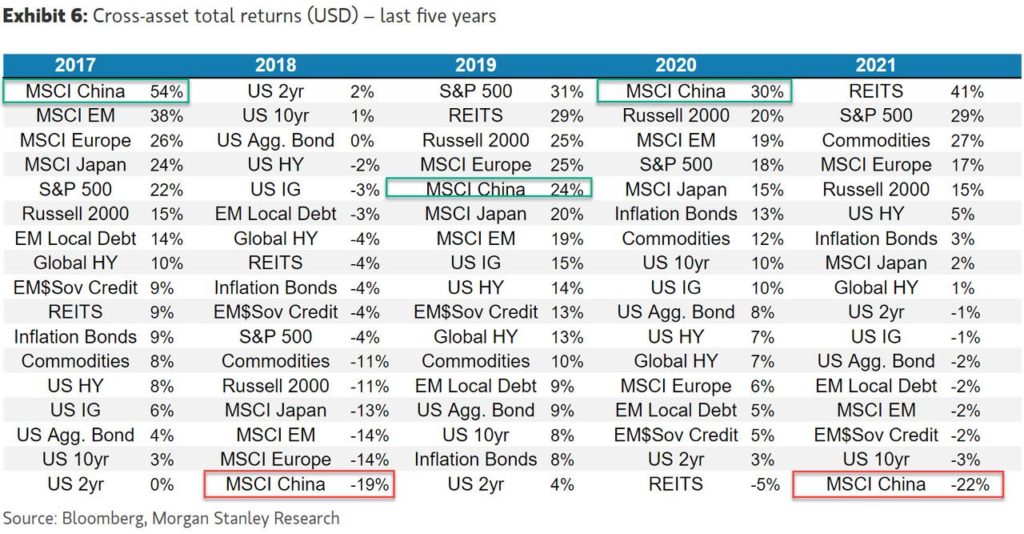 In the "Middle Kingdom", fourth-quarter GDP rose by 4%, taking growth in 2021 to 8.1%. A respectable performance, slightly higher than expected, which reassured investors. At the same time, the PBOC, the Chinese central bank,  successively lowered four of its key rates, to encourage banks to irrigate the economy. This signal was positively perceived by the market, which sees it as the basis for a pro-recovery policy, at a time when Western economies are engaged in the opposite movement. A re-acceleration of China could be a bullish catalyst for financial markets in need of positive signals. Watch closely.
The divergence in policy should offer Chinese markets some support and plays into Chinese equities "likely transitioning into a 'hope' phase from 'despair' where an expansion in price-earnings ratios typically outweighs weak fundamental growth to drive strong gains, said Goldman Sachs Chief China equity strategist Kinger Lau.
We believe that a turning point is in sight. After a perilous first quarter due to health restrictions and mistrust of the real estate sector, we believe that growth will recover. We expect Chinese equities to return around 15% this year on the back of supportive policies and earnings growth. In the medium/long term, we favor consumer durables and services, smart infrastructure and cybersecurity, wind farm operators, electric vehicle battery companies, and new economy companies.
The reality in China for many companies is the risk of being in the government's crosshairs. As a result, investors have rushed to invest in stocks listed on the Chinese stock exchange (A shares), which are perhaps less vulnerable, and some investors have avoided the tech mega-caps altogether (hence the discount).
Actually, over the years, the tech giants have gained a great deal of control over society, which is a problem for Beijing. One of the Communist Party's goals is to have thousands of companies flourish and not be dependent on a handful of tech giants who could set their own rules. In other words, the government is willing to significantly support its small and medium-sized enterprises, rather than lending a hand to the giants, who can easily take advantage of the smaller players.
Investors also flocked to "new" technology champions in industries that fit the government's goals.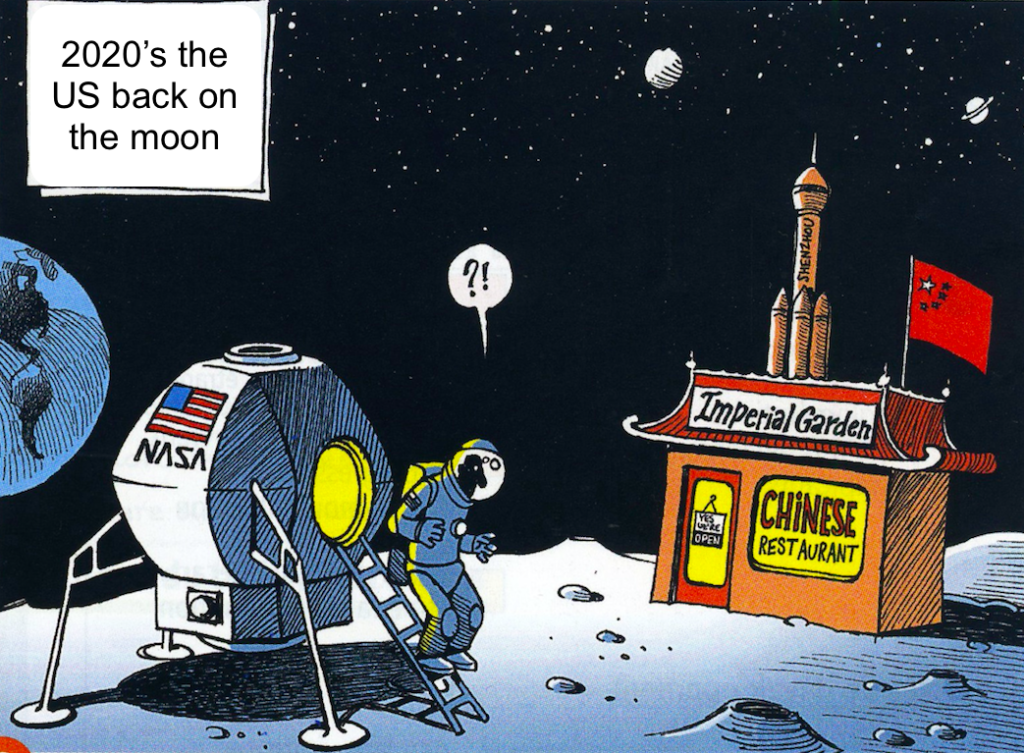 by Chappatte
Despite the lingering risks, we believe that Chinese technology stocks offer an attractive investment case that should benefit from China's growth and especially the increased role of the digital economy, especially over the long term. While any further announcements of tighter regulation could pose significant downside risks, the sector's valuations are historically very attractive and long-term growth prospects remain strong.
Until next time
ECONOMIST. CHINA