Gold Update : A Fun Poker Game Ahead
September, 03 2013
Ever try to catch a falling knife? You inevitably end up getting cut.
As a contrarian, I am constantly reminding myself to identify investment that "had the snot kicked out of  them". Because many times, these piles of beaten-up investments and forgotten companies hide real gems.
But you have to work at it, and unlike a value investor, you have to keep your eye on the big picture. Therein lies one of the crucial differences between a contrarian and a true value investor. While a value investor is narrowly focused on the details of the company – its earnings, cash reserves and financials – a contrarian investor considers those within the scope of the broad markets.
This is true for Gold and Gold mine companies
Gold has been massively underperforming all year in a rather shocking way, as U.S. averages ran away on the upside and left the precious metal behind in 2013. The correction in the precious metals market culminated with a retracement of gains subsequent to QE2.
The fact that gold is starting to outperform strongly into the September Fed meeting may mean bets are rising that the Fed will not rock the boat, but instead re-adjust crowd mentality away from cutting back on bond buying.
Gold to the Fed: You are bluffing
I find it hard to believe that Bernanke is not aware of the dangers yield spikes have on financial markets historically, which likely means the Fed either will not taper, or taper marginally to calm interest-rate movement. That means the Fed, because of its paranoia over an end to the wealth effect, may try to push for a negative real-rate environment again, whereby inflation is higher than nominal interest rates. This may be what gold is sensing. Gold tends to historically show strong momentum when in negative real-rate environments.
Perception-wise, then, this may mean gold's strength is anticipating a reversal in yields, more money printing, and another bout of stimulus.
Technically Speaking
After Gold  broke to a new high the prior Friday as expected after recent sideways price action above $1,350 area, which was a fourth wave so now market is in wave five, final leg of an impulsive move. That means that reversal in price may follow this week. Why? Because as Elliott Wave theory says, after every five waves, a correction will follow. In fact, $1,390 is also a very important and strong resistance area so the recent new consolidation should not be a surprise and it can mark a turning point. If current trend will extend higher within wave (v) then next (temporary) top zone will be at $1,500.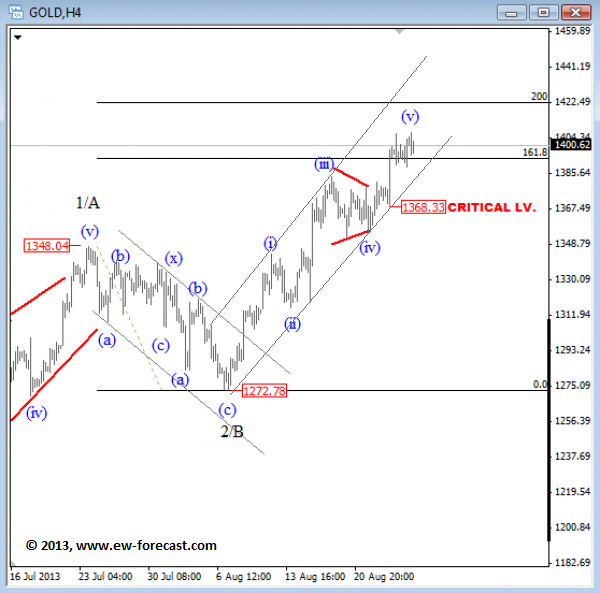 Gold Miners ETF
The Tracker already has moved above its October 2012 trendline and 50-day moving average.  Also notice that the ETF is hitting resistance from the highs extending back to late April.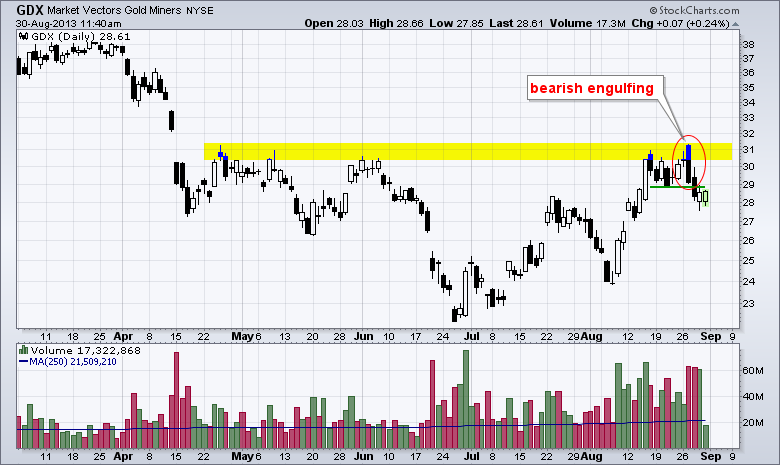 There is one more hurdle to overcome before this group is fully in bull mode, however. The miners' ETF must breach the 31 level to erase a rather strong resistance level on the charts. This is defined by a series of failed rallies following the April debacle, when both the metals and the miners collapsed.
Earlier this month, the miners' ETF once again rallied to this area before failing. But unlike previous attempts, underlying technicals such as momentum and cumulative volume are improving. With relative price stability over the past week, it is easy to conclude that the market is a lot stronger than it was before; a move above 31 would be a good signal for the bulls. despite it came under intense selling pressure earlier last week with a bearish engulfing and short-term support break. These two down days occurred on high volume.
We remain globally bullish on gold bullion and  on some miners. Considering their respective behavior either Gold is moving higher and Miners will move at a greater speed or Gold will move lower and Miners will tend to correct less.