Emerging Chronicles : Turkey, A promising Grand Baazar
March, 31 2013
Bridging Europe and Asia
See a decade of results for yourself with US Global Investor interactive periodic table of Emerging Markets
Tim Steinle, portfolio manager of the Eastern European Fund (EUROX), says that unlike Greece, which fudged its numbers to join the EU, Turkey was held to a higher standard. But it doggedly pursued its aspiration, and in the process of implementing the EU accession chapters, such as the Right of Establishment & Freedom to Provide Services, Company Law, Financial Services, Information Society & Media, Statistics, Financial Control, and Science & Research, had modernized its economy, making it competitive with those of Western Europe. In addition, open trade with the EU allowed it to build a diversified export economy.
See also our global research : Search for New Emerging Markets 
and our methodology : Finding Needles in the Emerging Markets Haystack
This wasn't the only time Turkey reformed its policies. In 2001, the country experienced its own devastating financial crisis, and as a result of that experience (with which the rest of the world can now sympathize), the government adopted tough, but important financial and fiscal reforms. These reforms helped the country rebound, and its strong banking regulations kept banks well capitalized compared to the US and Europe. In the charts below, you can see the result of the government's determination. From 2010 through 2012, Turkey's GDP exceeded that of Europe, the Middle East and Africa (EMEA), as well as the rest of the world. Through 2015, GDP is also expected to be greater than EMEA's GDP as well as overall world GDP.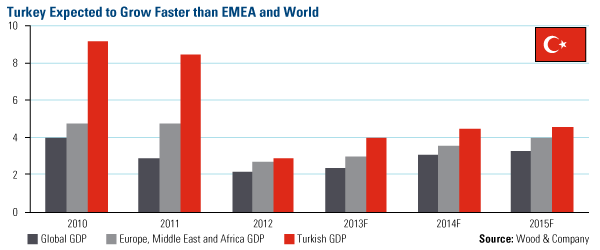 Spiegel Online reports Erdogan hinted that the emerging economy may consider joining the Shanghai Cooperation Organization, which includes countries such as China and Russia, instead. "The economic powers of the world are shifting from west to east, and Turkey is one of these growth economies," remarked the prime minister.
My visit to Istanbul was thrilling, and I'm equally excited about the continued investment prospects for Turkey as it gains in economic strength.
Naturally, even more after the Cyprus break up – see our comments on our blog –  the key to the story here is growth. Turkey has the potential to outgrow just about all its competitors in Europe, the Middle East and Africa. Add it all up and there's quite a tailwind for investment – something I'll take any time I can get it.
Today we are back with another forecast and a new way to play this booming emerging market. Take a look below:
I heard inklings of this while I was there, that Turkey was gaining from an Iraqi revival. It's hard to argue with the figures — which we'll get to below — and thus, our investment theme on Turkey deepens. I also found a new idea to play the region, First, those figures: Turkey's exports to Iraq over the last 10 years have grown by 25% per year to $10.8 billion in 2012. It is now Turkey's second-most valuable export market after Germany. As Iraq taps its rich oil reserves and its economy grows, its demand for Turkish goods also grows. Also, Turkish contractors have $3.5 billion of work rebuilding Iraq.
PREMIUM RECO

The two biggest projects in Iraq are power projects. A Turkish company, Calik Energy, has both.
See : How to profit from another Shale Boom : TransAtlantic Petroleum (TAT) 
Most of Turkey's business comes from the Kurdish-controlled northern regions of Iraq. It's growing quickly. The FT writes about a family-owned conglomerate in Gaziantep, in southern Turkey. Sales have grown 50-60% over the last two years. The company says it has two-thirds of the market for diapers in Iraq. It also has a leading position in olives. The FT also quoted from several Turkish businessmen who gushed positively about their businesses in Iraq.
Tim was keen to the idea that Turkey benefits from the opening up of northern Iraqi oil fields.  "As implausible as it may sound, it is bound to happen," Tim told me. "Few skeptics ever believed that oil from the landlocked Caspian Sea would find its way to world markets. Yet a major Baku-Tbilisi-Ceyhan pipeline now does exactly this. The Kurdish Regional Government (KRG) has been fostering a plan to build a 2 million-barrel-per-day pipeline through Turkey."
Tim owns Genel Energy in his fund, a company headquartered in Turkey with operations in Iraqi Kurdistan. (It trades on the London exchange, ticker GENL. I haven't done any work on it yet, but it is an interesting story.) It would be a clear winner in an Iraqi Kurdistan oil and gas boom. "Genel currently sells 40,000 barrels per day in Iraq at $70," Tim says, "but its production capacity is 80,000 barrels per day, set to double this year with a reserve base of over 380 million barrels."
One of the reasons I like Turkey is a matter of geography. Turkey is set up well to be an energy hub. It is at a crossroads between the oil- and gas-rich lands of the Middle East/former Soviet states and the demand centers of Europe. Already, it controls one of the world's busiest chokepoints, through which 3 million barrels flow per day.
On this, Tim told me about another great idea on the theme. "Even though Turkey imports most of its oil needs," he said, "it is a net exporter of refined products, thanks to its sophisticated refining capacity. One of the core holdings of EUROX is the Turkish refiner Tupras." It has an 8% dividend yield and would be another winner of increasing flows of oil and gas through Turkey.