Emerging Chronicles : China Rebound ?
May, 21 2013
Positive Outlook Change for Chinese Stocks
The elusive bottom in Chinese stocks is becoming more constructive here with a higher low being put in, above the 200-day moving average. MACD signaled a buy in May and is moving into positive trend territory on the daily chart. Price broke above the 50-day MA last night which is improving the intermediate-term outlook. If the composite can get above the February high, then Chinese stocks will have made a cyclical bottom.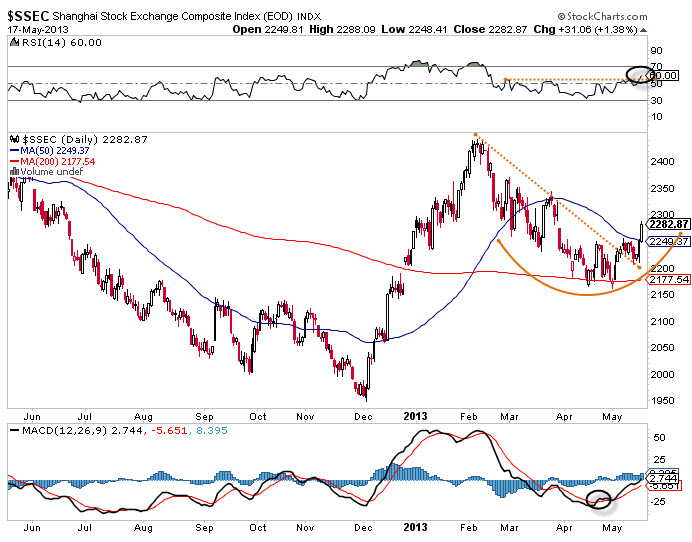 Short-term = positive
Intermediate-term = turned positive with momentum turning positive with an RSI breakout
Long-term= neutral and leaning towards reversal with a higher low and a flat 200-day moving average acting as support
A potential catalyst for Chinese stocks this week is the Chinese HSBC Flash PMIs, released on Wednesday. The Flash PMIs are an early read on manufacturing for China before the final PMI data is released. Activity has basically been flat for 6 months after recovering in the fourth quarter of 2012. Exports remain weak and employment has suffered in the last couple of months. Any positive change could lift stocks higher as investors remain hopeful a new drive to stabilize growth will form in Beijing.
Given the correlation between commodity prices and Chinese stock prices is high (see chart below), any kind of trend reversal in the Shanghai stock exchange could also spell the same reversal for commodity prices in general.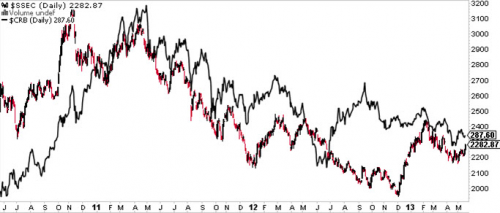 Link : Financial Sense