Does Your Advisor Understand Responsible Investing? Ask Them These 5 Questions To Find Out.
January, 26 2022

Investors are putting significant and increasing emphasis on their portfolios' exposure to climate change – both the physical climate risks and the risks from the inevitable transition toward a net zero global economy. For example, 77% of investors surveyed in the EY poll said that, over the next two years, they will devote considerable time and attention to evaluating physical risk implications when they make asset allocations and selection decisions (up from 73% who said the same in 2020).
While investor interest in ESG -Environmental Social and Governance refers to the three key factors when measuring the sustainability and ethical impact of an investment-  or SRI -sustainable, responsible, and impact- investing has greatly increased in recent years, many financial managers/advisors are still woefully unprepared to talk to their clients about SRI.  Only one-third reported growing interest in sustainable investing. This is disproportionate to data that suggests that 84% of all investors (90% among Millennials) want the ability to tailor their investments with their values. Interestingly, only a minority strongly believes that ESG investments will outperform the market over the investment horizon.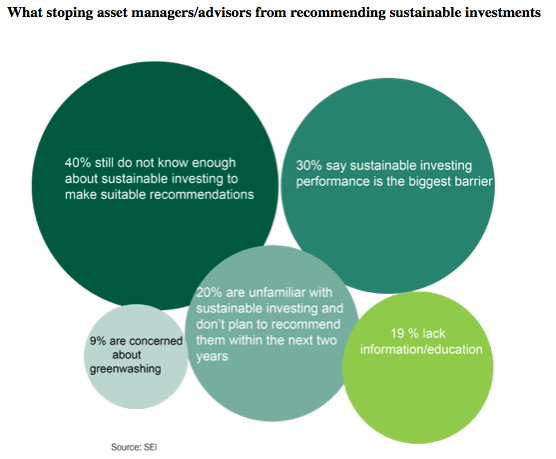 Strangely enough, only a minority strongly believes that ESG investments will outperform the market over the investment horizon.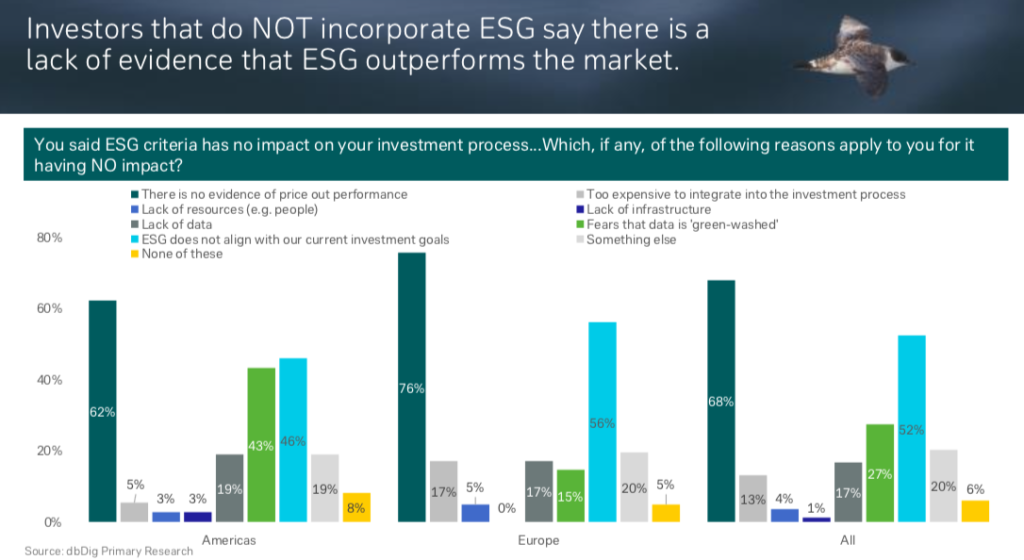 Interestingly, there are solutions and clear rebuttals to every managers/advisor concern stated above. But understanding investment strategies that utilize SRI isn't going to happen overnight. It takes time, passion, and a genuine desire to not only understand your clients' values but to also align those values with their investments. Unfortunately, many won't be motivated until they see their business at risk because they are unable to communicate and connect with values-driven investors.
The main reasons to drive asset managers/advisors to increasingly pay attention to how their investments affect the environment and society, the survey shows, are because their clients are urging them to do so.
So here are the question to ask your manager :
1. What are your licenses, credentials, and/or certifications?
This question will help you determine whether the manager/advisor has the specific knowledge to deliver what you're asking for. For example, certificate in sustainable finance, sustainable development and environment,  indicates the manager/advisor is well versed in the history, definitions, trends, portfolio construction principles, fiduciary responsibilities, and best practices for sustainable, responsible, and impact (SRI) investments.
2. Do you specialize in SRI/ESG?
Some managers/advisors have a focus or specialty. If their specialty matches your financial goals, this can provide a strong foundation for a lasting relationship – but you shouldn't stop there. If you're looking for an manager/advisor to help you with values-based investing, it's important to know that the manager/advisor's values are also aligned with yours.
3. How do you choose your investments or funds?
Many managers/advisors simply point to a few ETFs or mutual funds offered by their firm. This is a big red flag for true SRI investing, but if that is the case, make sure your manager/advisor is at least looking under the hood to examine and understand the company's activities and externalities in which to invest or what the holdings are in the funds they are recommending for you.
4. How do you approach SRI/ESG investing?
If your manager/advisor constructs their own portfolio or funds, they should be able to explain how they consider traditional economics, fundamental analysis metrics, as well as sustainability metrics – such as environmental, social, governance (ESG) – and others important to business operations. But most importantly, they need to apply some level of common sense to building their SRI portfolios because ESG metrics are easily gamed. Hypothetically, an environmentally harmful company can compensate for their poor environmental impact by increasing charitable donations or appointing a minority/woman to their board – increasing their social and governance impact – and be considered "ESG."
5. Can I see a sample of the companies your SRI/ESG funds are invested in?
This is perhaps the most important question you can ask to ensure your investments are making the impact you want on our planet, society, and future. Whether they are constructing their own funds or offering generic ETFs or mutual funds, they should be able to walk you through the holdings and speak to how the selected funds are aligned with your unique values.
The takeaway
Investing is moving toward a more positive, intentional model and it's being driven by you – investors who care about what they own. As the driving force behind this positive shift, you can be proactive about aligning your investments with your values and demand that your financial partner is the leader and manager/advisor you are paying them to be.
Corporates should:
better understand the climate risk disclosure element of ESG reporting
make strategic use of the sustainability function to inject rigor into the process to determine the materiality of their ESG context
engage with, and embed, the finance function to consider and align financial and value implications
deepen engagement with investors, including understanding the new ESG disclosure requirements that can help differentiate a company from its competitors
Investors should:
update their investment policies and frameworks for ESG investments while building an ESG-driven culture
update approaches to climate risk so that they can better interpret and understand scenario analysis of the potential consequences of climate risks to target companies and sectors over the short, medium and long term
put in place a bold and forward-looking data analytics strategy
Conclusion
Ultimately, corporations exist within a broader system. The obsession with shareholder primacy has served executives and investors well, but it has left younger generations with a staggering bill. This past-due invoice includes environmental degradation, biodiversity loss, income inequality, and climate change. Going forward, stability and prosperity require that executive leaders advocate for structural changes that enable them to focus beyond the next quarter's numbers.
ERNST & YOUNG
DEUTSCHE BANK