Commodities still enjoy their Y2K
December, 09 2012
In the year 2,000 there was a shift in global resource trends. We recognized the significance of China and Eastern Europe ushering in free markets, believing this to be a positive change, with emerging markets as big beneficiaries of this massive shift. 
So far this year commodities have produced lacklustre returns. While the asset class rebounded strongly in January, it was short-lived. By June, commodity returns were flat for the year, and the market was required to demonstrate patience until the rebound in the fourth quarter, which was in large part due to Fed's third round of quantitative easing(QE3). Nonetheless, there is currently a lack of a clear trend. On a year to date basis, as of October 23rd 2012, gold has benefited from recent monetary policy up 11% ytd, whilst oil and industrial metals are up 6% and 0.6% respectively,. With mixed returns so far this year in the asset class, the debate concerning whether the commodity boom has come to an end or has resurfaced. Only four commodities on our periodic table pulled off a positive return.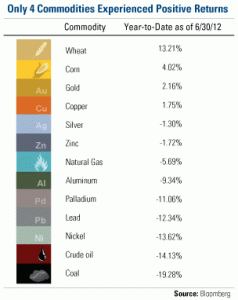 However, you can look at it another way by asking yourself these questions:
Do you plan on purchasing food in the next 3 months?
Will you fill up your gas tank in the next 30 days?
Have you noticed that the dollars in your wallet just aren't buying the same amount of "stuff" that they would, say, 10 years ago?
If you answered yes to any of the above questions — then it's imperative that you read on.
"Bearish on human resources…but bullish on natural resources investments."
As we approach 2013 strategists look into the new year and set out their forecasts. A number of the big houses have highlighted Chinese growth and natural resources as their key picks for the year. Goldman Sachs pinpoint the twin Chinese growth drivers of infrastructure and property with a preference for copper exposure due to the potential for supply shocks (a view we concur with). Morgan Stanley have: Chinese investment-related stocks and mining stocks; and corporate activity pick up amongst their key surprises for 2013. Bank of America Merryl Lynch highlight Basic Resources and Autos as their preferred global recovery plays.
See our presentation below :
Here at Investlogic we take a fundamentally different approach to research. With our boots on the ground, we travel and investigate the world looking for the most lucrative resource, energy, an precious metals opportunities. In Geneva we are lucky enough to concentrate the banking industry and the commodity trading. Lately we had opportunities to attend several conferences, seminars and workshops. One of them "The Australian resources conference" allows us to select some of  great opportunities. See RECO.

PREMIUM RECO  :
Mincor Resources (ASX : MCR) Nickel
Mincor Resources NL is a nickel mining company listed on the Australian Stock Exchange. The Company is debt-free with an exceptionally strong balance sheet and has paid regular fully-franked dividends since 2003.
TNG ltd (TSX : TNG)  Vanadium
TNG Ltd is an Australian resource company focused on the exploration, evaluation and development of a multi-commodity resource portfolio in the Northern Territory and Western Australia. TNG's main focus is the evaluation and development of its 100%-owned Mount Peake Vanadium-Titanium-Iron Project, located in the highly prospective Arunta Geological Province some 80km north-east of Alice Springs in the Northern Territory.
Cokal ltd (TSY : CKA) Coal Indonesia
Cokal Limited (Cokal) is an emerging ASX listed coal company, with high margin metallurgical coal as our key focus. Cokal holds interests in coal exploration tenements in Kalimantan (Indonesia), Tanzania and in the Clarence – Moreton, Surat and Bowen basins in Australia.
High on Nickel
Supporting our point of view we cannot not highlight the recent agreement between Russian oligarchs  Vladimir Potanin and Oleg Deripaska have reached a new shareholder agreement, bringing to the end a $1.4bn dispute over rights at Norilsk Nickel. -See report here-
Norilsk NIckel (RTS : GMKN)
Two reasons to invest :
The rise of the prices planned for 2013
The trend on the nickel market  is up. According to the calculations of the bank HSBC, the average prices of the nickel should so go from $17 920 the ton this year to $18 740 the ton in 2013.
The good management of Norilsk Nickel
The regularization of the sector of the nickel in Russia will allow Norilsk to develop its strategy of long-term investment. Moreover, the share of Norilsk gained 1,5 % at the announcement. The Russian should take advantage of his international setting-up to continue his progress. After its major breakthroughs in Africa, in particular in Botswana, in South Africa, and in Australia, the group could decide on still low prices of the nickel to proceed to proceed to new acquisitions.