Are we still in a long-term bull market?
November, 17 2022
It's hard to know if the market's October lows will hold.
As  we have been pointing out in recent weeks, with the market already expecting such a restrictive path from the Fed, it didn't take much to trigger a relief rally. And that's what we saw in the last couple of weeks—expectations for the Fed's terminal rate (or ending rate for this hiking cycle) came down very slightly, sparking a rally for stocks and long-term bonds.
After the market's sharp CPI-induced rise last week, we're still clearly up from the lows. Bear markets are often littered with face-ripping rallies, of course, so the fact that we saw one should surprise no one.
Source : Fidelity Investments
Reasons for optimism
There are arguments to be made in favor of the market holding its ground. One comes from theories related to seasonal patterns. According to this theory, the seasonally weak period runs from the summer to mid-October, and then turns positive until the following spring. The recent bottom we just saw fell perfectly in line with that seasonal pattern.
At last, there's the simple fact that quite a lot of bad news has already been priced into the market. At the October low, the S&P 500 had experienced a drawdown of 28%. Put another way, it had already priced in about 85% of a typical bear market.
Reasons for skepticism
However, as we have been writing for some time, the market continues to look overvalued—based on calculations of a "fair-value" price-earnings (P/E) ratio that would be justified by current interest rate levels.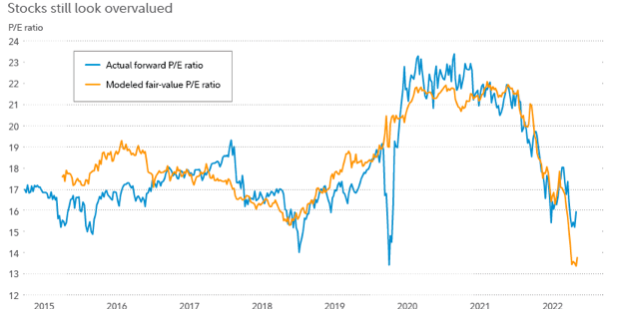 Source : Fidelity Investments
Following the lift of the past few weeks, the stock market is now even further away from its estimated fair value. The S&P 500's actual current P/E ratio is now 16.8 times expected earnings, while its fair-value P/E ratio is at 13.8 times expected earnings (based estimate of fair-value P/E ratio with a regression analysis that uses the 2-year yield and the 10-year real yield as inputs).
Are we still in a long-term bull market?
Perhaps the bigger question is not whether the most recent lows hold, but whether we are still in the long-term bull market that started in 2009.
So far, we have been looking at how the market's performance could play out over the short term. But perhaps an even more important question is where we are in the long-term trend.
Technically  we are in the midst of a long-term bull market—one that started in 2009. While the outlook is fuzzy right now, on this basis we do still think there's a chance the bull market could be salvaged.
For one thing, it's not unusual to see recessions or shorter-term bear markets even during a long-term bull market. An easy visual of this is the chart below, which shows  S&P 500 still holds its long-term trendline (green dotted line).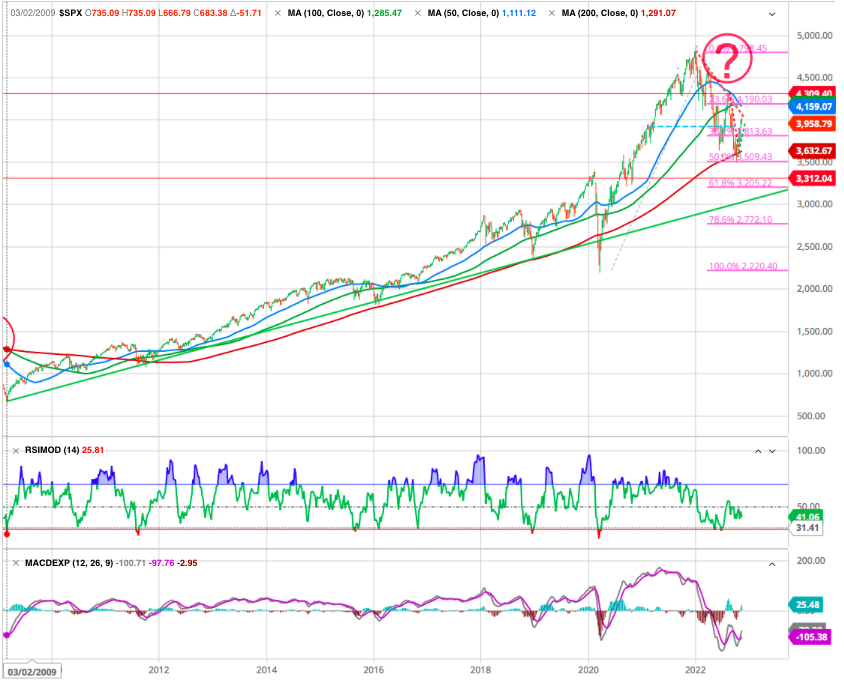 With a coming recession we continue to focus to another down wave to the 61.8 % Fibo correction of this l.t. bull (3100-3300) crossing with the green uptrend.
Until next time