Marketscope : Don't Fight the FED
November, 22 2021
In Europe, the gains evaporated with Friday's session. The CAC40 recorded a weekly loss of 0.3%, the Dax gained 0.4% and the Footsie gave up 1.7%. For the peripheral countries of the euro zone, the red dominates. Italy is down 1.4%, Spain is down 3.6% and Portugal is down 4.5%.
In Asia, the Hang Seng lost 1.1% over the last five days while the Shanghai Composite gained 0.9%. In Japan, the Nikkei gained 0.5%.
In the commodity sphere bad news is piling up on oil markets and weighing on the trend. After the downward revision of global demand forecasts by the International Energy Agency and the US threat to draw on its strategic reserves, operators must now face the consequences of a potential new containment in Europe after Austria's decision to reconfine its population. Oil prices have thus taken the path of decline this week, with Brent crude falling to nearly $78 per barrel, compared to $75.8 for the U.S. reference.
The rise in the greenback weighed on the industrial metals segment, which, like oil, fell this week despite better-than-expected Chinese statistics on industrial production and retail sales in October.
Copper is trading at USD 9450 per metric ton, while nickel has fallen to USD 19200. Gold stabilized around USD 1860, but did not benefit from the renewed nervousness of equity markets.
On the side of cryptocurrencies, the market seems to be feverish, falling by 10% this week, bringing the total market capitalization to $ 2.5 trillion. Bitcoin, meanwhile, is losing more than $10,000 from last week's high, hinting at a potentially eventful end to the year for digital assets.
Trading will be lighter this week due to the Thanksgiving holiday in the U.S. without a lot of investor events to track. Investors will be watching PMI data in the US and Europe, -These measure business confidence and as such are very good leading indicators of economic activity, check our ABS matrix- as well as Fed and ECB minutes.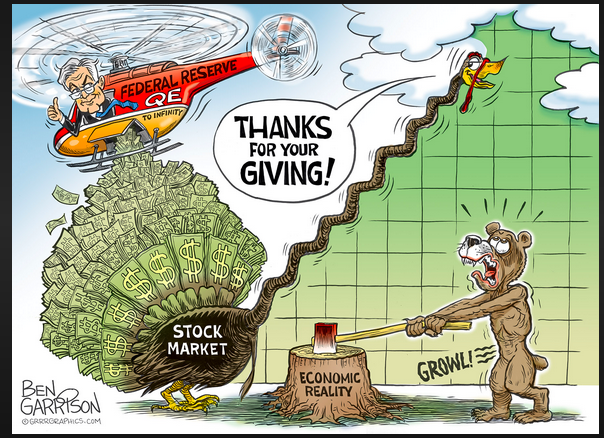 Black Friday/Cyber Monday preview: The Black Friday to Cyber Monday shopping period will have a different look this year with two million more people than last year expected to shop over the three days, despite retailers starting their promotions earlier than ever. A NRF survey indicates that clothing is at the top of the shopping list of consumes, followed by gift cards, toys, books/music/movies/video games and food/candy.
Anyone who has read or seen the news in the past couple of weeks has no doubt encountered stories about the supply chain crises and inflationary pressures.
While there are certainly shortages and tight inventories in some parts of the economy, there is a reasonable counter-argument that a perceived lack of goods and services may be slightly overblown. If the worries and concerns over the supply of goods are greater than the actual scope of the problem, that's potentially bullish for stocks, in our view.
RETAIL IS BACK- HOW TO PLAY IT- many American retailers like Abercrombie have harnessed macroeconomic changes ushered in by the pandemic to propel themselves into an unexpected renaissance. Some brands have successfully merged their brick and mortar operations with digital strategies. Macy's, Nordstrom have all soared.
The pandemic has given retailers the rare chance to close poorly performing locations and focus on the best one
Retailers are focusing on getting better inline
They have shifted their sales strategies to target customers
Acceleration of e-commerce
Stores matter but they have to be the right size, the right location and the right economics
Consumer savings are at all- time highs, wealthy households are expected to spend 15% more this season than last year
Companies are fighting supply chain concerns, labor shortage and inflationary pressures all this despite strong demand trends. Key is to find companies able to manage the challenges and the opportunities.
Some retailers are taking supply chain issues in their own hands like American Eagle which just acquired Quiet Logistics an operator of automated distribution centers.
HAPPY TRADES